Product list
Contact us
Tax Registration Number: 91440101552358350G
Bank:BANK OF CHINA GUANGZHOU ZENGCHENG ZHONGXIN SUB-BR
Account :705569418477
E-mail: gdyshg@163.com
Tel: 15118868698 020-87471488
Business address:The new town of Zengcheng District of Guangzhou Ctiy in Cunjing Fung pui road 30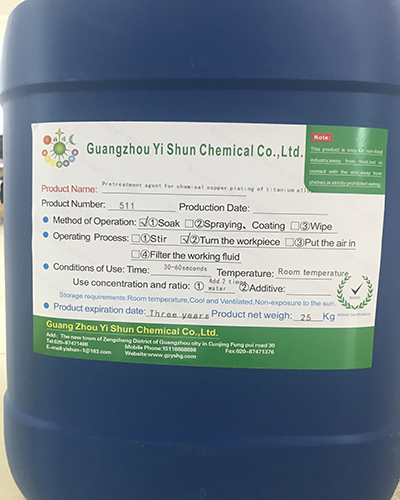 Product Name:Pretreatment agent for chemical copper plating of titanium alloy,Chemical pretreatment agent,Metal pretreatment solution
Price:
Pretreatment agent for chemical copper plating of titanium alloy,Chemical pretreatment agent,Metal pretreatment solution
Pretreatment agent for chemical copper plating of titanium alloy,Chemical pretreatment agent,Metal pretreatment solution
I. product code : Q/YS.511
II. Product use
This product is used for pretreatment of chemical copper plating of titanium alloy, which can remove the oxide scale of titanium surface and activate the surface of titanium alloy, thus facilitating the next treatment of chemical copper plating. This agent has oil removal; Remove oxide scale and activate three major functions. This agent can solve the problems of electroless copper plating and electroless nickel plating on titanium alloy.
III. Usage:
1. After adding water to the product twice, the titanium alloy will be soaked in the pretreatment agent for 30-60 seconds, and then the products will be washed clean.
2. The coating immediately went into electroless copper plating water (Q/YS.118) for a titanium alloy electroless copper plating.
3. Do other treatment after copper plating: such as electroless nickel plating.
Other processing:Chemical Plating Liquid Train、Copper oil removal passivation agent、Inferior quality brass environmental chemical polishing agent、Environment-friendly copper chemical polishing liquid、Unscented and environmental chemical copper plating liquid