Product list
Contact us
Tax Registration Number: 91440101552358350G
Bank:BANK OF CHINA GUANGZHOU ZENGCHENG ZHONGXIN SUB-BR
Account :705569418477
E-mail: gdyshg@163.com
Tel: 15118868698 020-87471488
Business address:The new town of Zengcheng District of Guangzhou Ctiy in Cunjing Fung pui road 30
The current position:Home > products > Industrial cleaning agent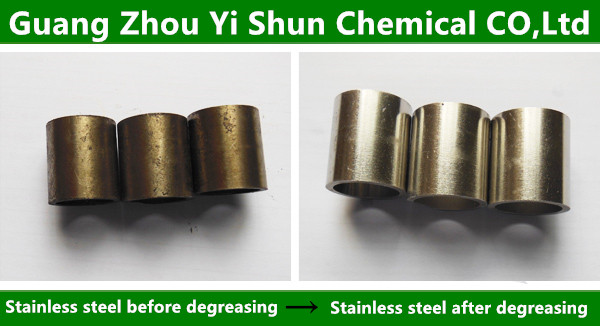 Product Name:Metal cleaning agent,Oil cleaning agent,Metal surface treatment agent
Price:
Metal cleaning agent,Oil cleaning agent,Metal surface treatment agent
Metal cleaning agent,Oil cleaning agent,Metal surface treatment agent
First, Product number :Q/YS.904(Yi Shun brand)
Second,Specfication:
1.This product is used to degreasing for steel,iron,copper,aluminum,especially aluminum workpiece .It can maintain the original color of the matal .At the same time it is also suitable for the cleaning of floor tiles.
2.No harming metal surface
3.The cleaner have good solubility in water ,non-toxic,odorless,no irritation to skin,harmless to human and animal
4.Perfect degreasing ability ,small bubble ,wide range of application
5.Non-combustible and do not burst,it can save energy and instead washing oil .It has the good economic efficiency and social benefits
6.PH value :9
7.Color :yellow
Third, Instructions:
1.Use this product at room temperature to 80 degrees Celsius,we dilute the solution 10-15 times depending on how much oil.Hot water dilution effect is better.Better use of supersonic wave cleaner.
2.We can remove the oil by immersion and wipe and processing time:2-10 minutes
3.The working fluid has the product liquid consumption and should be added a certain amount of working fluid or change in time .
Other processing:Ink Cleaning Agent、Environmental degreer and rust remover、Brass Green Chemical polishing Agent、Electroless plating of real gold on copper surface、Strong oil stain removal agent、Copper、chromium and nickel stripping agent