Product list
Contact us
Tax Registration Number: 91440101552358350G
Bank:BANK OF CHINA GUANGZHOU ZENGCHENG ZHONGXIN SUB-BR
Account :705569418477
E-mail: gdyshg@163.com
Tel: 15118868698 020-87471488
Business address:The new town of Zengcheng District of Guangzhou Ctiy in Cunjing Fung pui road 30
The current position:Home > products > Chemical Plating Liquid Train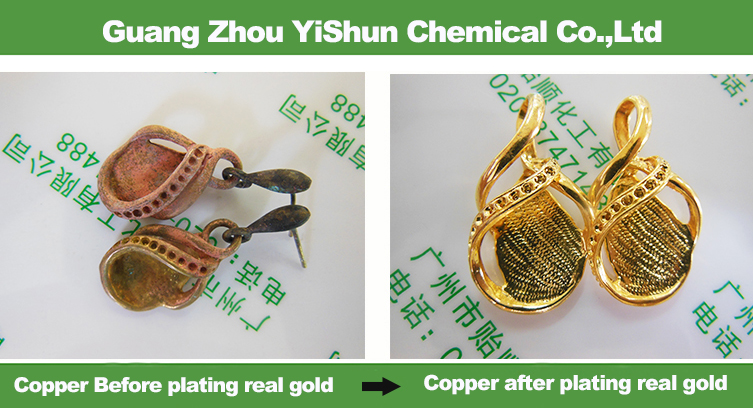 Product Name:Electroless plating of real gold on copper surface,Environmental protection chemical gold-plated liquid,Direct gold plating on copper surface
Price:
Electroless plating of real gold on copper surface,Environmental protection chemical gold-plated liquid,Direct gold plating on copper surface
Electroless plating of real gold on copper surface,Environmental protection chemical gold-plated liquid,Direct gold plating on copper surface
First, the product code: Q / YS.810 (Yi Shun brand)
Second, the product range:
This product is used in all kinds of electronic industry, printed circuit board solder pieces of copper, the use of this agent after gold plating can enhance the conductivity, weldability and corrosion resistance. Suitable for brass, copper and copper metal surface chemical gold plating. Green products without cyanide, without any toxic substances, you can bold operation. This product is durable and stable in nature.
Third, product index:
(1) green liquid, no smell, transparent
(2) PH <7.0 (cyanide free);
(3) the proportion of> 1.0.
Fourth, the process:
(1) copper surface cleaning oil descaling: You can use Yishun brand metal cleaning agent Q / YS.904 and Q / YS.119, washed after use.
(2) polishing of copper: For ordinary brass and copper, chemical polishing is carried out using Yishun brand polishing agent Q / YS.103, Q / YS.105 or Q / YS.106. For special copper alloy or low-grade lead-containing Copper alloy is the use of Q / YS.124, Q / YS.106-2 copper polishing agent for polishing, after washing then use.
(3) gold-plated: the stock solution use of gold-plated copper surface water, heated to 85 ℃ -95 ℃, the copper parts soak in gold-plated water 3-5 minutes.
(4) washed, dried to get a bright gold-plated surface.
Other processing:Chemical Plating Liquid Train、Dedicated copper plating liquid for aluminum、Chemical silver plating liquid (copper substrate)、Stainless steel chemical thicker liquid copper plating、Copper rust remover and degreasing agent、Environmental non-cyanide gold removal liquid