Product list
Contact us
Tax Registration Number: 91440101552358350G
Bank:BANK OF CHINA GUANGZHOU ZENGCHENG ZHONGXIN SUB-BR
Account :705569418477
E-mail: gdyshg@163.com
Tel: 15118868698 020-87471488
Business address:The new town of Zengcheng District of Guangzhou Ctiy in Cunjing Fung pui road 30
The current position:Home > products > Industrial cleaning agent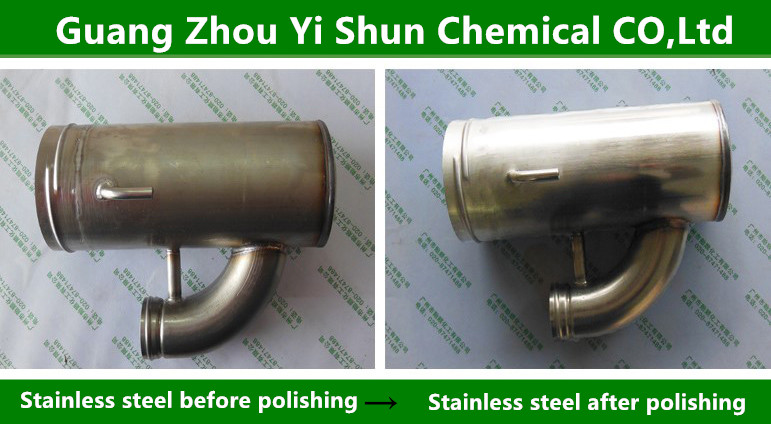 Product Name:Metal polishing Agent,Metal Brightening Agent,Stainless Steel Polishing Agent
Price:
Metal polishing Agent,Metal Brightening Agent,Stainless Steel Polishing Agent
Metal polishing Agent,Metal Brightening Agent,Stainless Steel Polishing Agent
First, product number: Q/YS.999(Yi Shun brand)
Second, range of application:
This product is a multi-function metal polishing agent. It is applied to polish and renovate on the surface of copper , copper alloys (including copper, brass, copper, bronze, etc.) and nickel, silver, zinc, tin, chrome, stainless steel, aluminum, and this product can prevent the regeneration of Pseudomonas and corrosion. Rust removal, pollution cleaning, cleaning, polishing, rust proof, anti tarnishing can be cost-saving finished in one step. Does not contain toxins, not to hurt the skin, smell fresh. This product is more suitable for elimination of copper oxide of large bronze statue, billboard and removal rust. The use of this product can reach the sparkling mirror effect.
Third, usage method:
Take a small amount of the product with cotton cloth to wipe the metal surface repeatedly. Shake well barrel thenbefore use it to achieve the uniform state.
Fourth, Product appearance:
1,Creamy white emulsion,
2,Slight odor
3,proportion :1.10
Fifth, matters needing attention:
If there is liquid medicine precipitation within the barrel, please stir evenly, do not affect the use effect.
Other processing:Environmental degreer and rust remover、Stainless Steel Polishing Agentas、Brass Green Chemical polishing Agent、Electroless plating of real gold on copper surface、Gold and silver jewelry bright cleaning agent