Product list
Contact us
Tax Registration Number: 91440101552358350G
Bank:BANK OF CHINA GUANGZHOU ZENGCHENG ZHONGXIN SUB-BR
Account :705569418477
E-mail: gdyshg@163.com
Tel: 15118868698 020-87471488
Business address:The new town of Zengcheng District of Guangzhou Ctiy in Cunjing Fung pui road 30
The current position:Home > products > Copper surface treatment agent series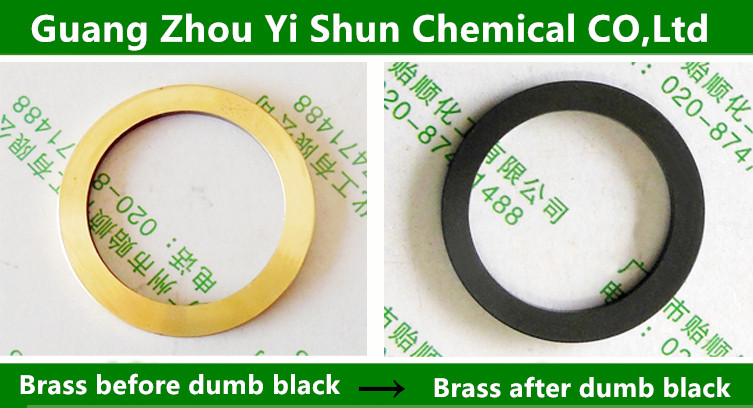 Product Name:Brass dedicated blackening Agent,Blackening Agent at ambient temperature,Copper Blackening Agent
Price:
Brass dedicated blackening Agent,Blackening Agent at ambient temperature,Copper Blackening Agent
Brass dedicated blackening Agent,Blackening Agent at ambient temperature,Copper Blackening Agent
First, the product code: Q / YS.122 (Yi Shun brand)
Second, the scope of products:
This product is suitable for black and brass H59 and above, as well as optical instruments such as telescopes, film bonding with good.
Third, the product composition:
By the black agent and blackening additives, mixed before use. Press black agent: Blackening additive = 1 kg: 60 grams to 80 grams.
Fourth, the use of instructions:
① According to customer requirements brass pre-treatment: degreasing, matte, rust or polishing, preferably mechanical polishing or sandblasting.
② Press per kilogram of black agent with 60 ~ 80 grams of black additives Stir for 5 minutes, take the upper black overnight blackening treatment. Black best temperature at 35 ℃ ~ 50 ℃.
③ Soak the brass 5-10 minutes, do not stop about gently flip the workpiece soaking process.
④ Use several times after the blackening agent its use will be reduced, should be an appropriate amount of stock solution and blackening additives. Stir at about 40 ℃ after precipitation, the supernatant to use.
Fifth, note:
Products are volatile, sealed sealed to maintain efficacy.
Other processing:Environmental degreer and rust remover、Stainless Steel Polishing Agentas、Brass Green Chemical polishing Agent、Electroless plating of real gold on copper surface、Strong oil stain removal agent、Environmental non-cyanide gold removal liquid、Copper malachite green colorant