Product list
Contact us
Tax Registration Number: 91440101552358350G
Bank:BANK OF CHINA GUANGZHOU ZENGCHENG ZHONGXIN SUB-BR
Account :705569418477
E-mail: gdyshg@163.com
Tel: 15118868698 020-87471488
Business address:The new town of Zengcheng District of Guangzhou Ctiy in Cunjing Fung pui road 30
The current position:Home > products > Chemical Plating Liquid Train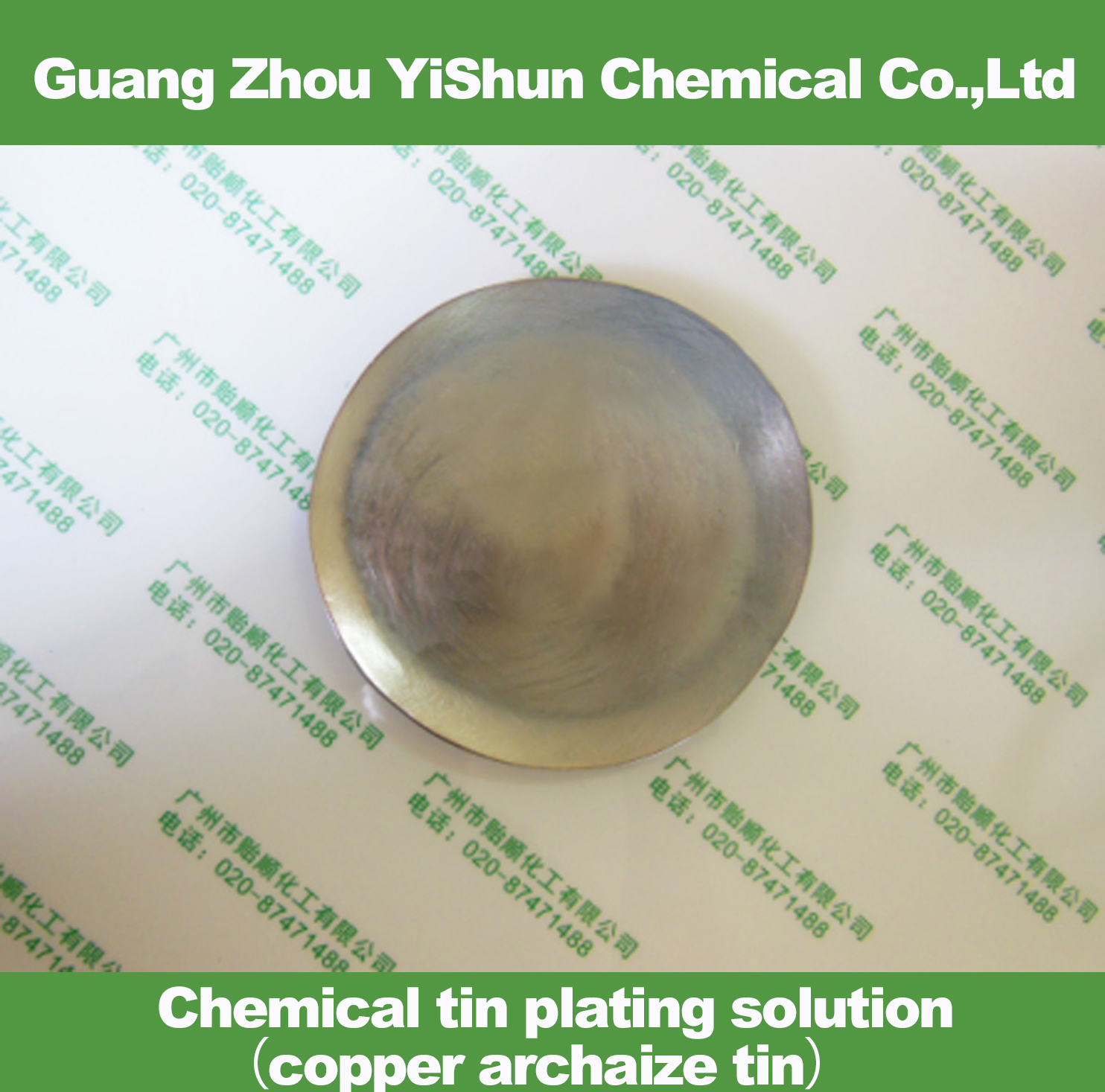 Product Name:Chemical tin plating solution(copper archaize tin),Copper with Vintage colors,Tin Antique
Price:
Chemical tin plating solution(copper archaize tin),Copper with Vintage colors,Tin Antique
Chemical tin plating solution(copper archaize tin),Copper with Vintage colors,Tin Antique
I.Product no. : Q/YS.402-3 (yishun brand)
II. Product features:
The product can be used for electroless tin plating on copper alloy surface such as copper, brass, beryllium copper, tin coating is old tin color, used for archaize, do not affect electrical conductivity, can be used for furniture, food packaging and other aspects. Anti-oxidation, increase the appearance of copper workpiece, product non-toxic heavy metal, salt fog test more than 45 hours without rusting. Do not need electroplating equipment, just soak, coating has mildew sterilization effect, used in food utensils and imitation of ancient old tin.
III. Product indicators
Weight: 1.04~1.05
(2) the PH: 1.0 ~ 1.2
Appearance: colorless transparent liquid
The product consists of tin plating main agent (water) and additive (white powder)
IV, chemical tin plating process:
copper pieces of oil removal - acid (polishing) or (sand) - two water washing -- chemical tin -- three water - with cold wind blow dry, testing in a timely manner.
Tin plating chemistry: chemical tin plating liquid 1 times of water, add 8-10 g/kg tin plating additives after use, tin plating temperature to room temperature 20 ℃, 35 ℃, tin 5-8 minutes, gently stir in the process of tin plating solution or gently turning workpiece.
V. matters needing attention:
When the copper workpiece is washed with water, it should be put into the tin plating liquid in time to prevent the copper surface from oxidation and affect the plating quality.
The old tin water is prepared and fully used in time.
Vi. Supplement in the process of product:
When tin plating efficiency decreases, 1.0% tin coating additive can be added, and can be used after being mixed evenly.
Other processing:Chemical Plating Liquid Train、Stainless steel chemical thicker liquid copper plating、The copper surface is chemically coated with black metal film、Copper rust remover and degreasing agent、Copper colored chocolate