Product list
Contact us
Tax Registration Number: 91440101552358350G
Bank:BANK OF CHINA GUANGZHOU ZENGCHENG ZHONGXIN SUB-BR
Account :705569418477
E-mail: gdyshg@163.com
Tel: 15118868698 020-87471488
Business address:The new town of Zengcheng District of Guangzhou Ctiy in Cunjing Fung pui road 30
The current position£ºHome > products > Chemical Plating Liquid Train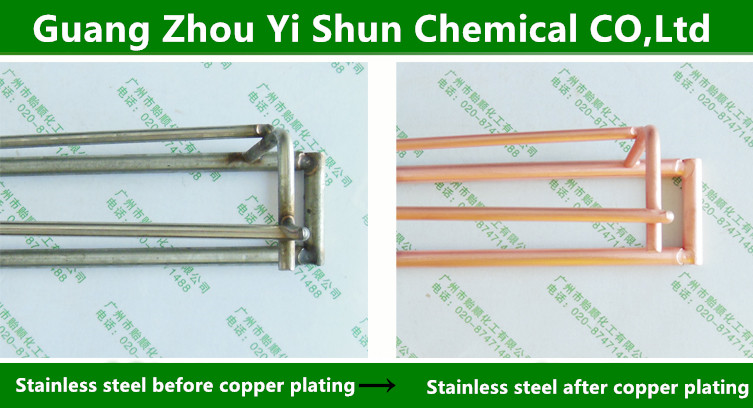 Product Name£º201££stainless steel chemical thicker liquid copper plating£¬stainless steel without electrolytic liquid copper plating£¬ stainless steel antique liquid copper
Price£º
201££stainless steel chemical thicker liquid copper plating£¬stainless steel without electrolytic liquid copper plating£¬ stainless steel antique liquid copper
201££stainless steel chemical thicker liquid copper plating£¬stainless steel without electrolytic liquid copper plating£¬ stainless steel antique liquid copper
First, the product code: Q / YS.156 (Yi Shun brand)
Second, the product range:
This product is suitable for copper plating on stainless steel surface. The copper-plated surface is bright copper. The coating has a good combination of strength, can be used as thick solid copper or nickel plating, black and antique, the operation is simple and easy.
Third, product index:
1, transparent acid.
2, double the product after use.
3, copper plating temperature 30 ¡æ -45 ¡æ.
4, copper plating time is 8-10 minutes.
Fourth, product use method:
1, stainless steel pretreatment: degreasing.
2, immersed in stainless steel oxide scavenger at room temperature, about 30 seconds, stainless steel black.
3,after washing,film removal agent immersed in stainless steel, remove the black skin.
4, immediately after washing into preheated to 30 ¡æ -45 ¡æ for 201 stainless steel special copper dilute solution for about 8-10 minutes, soaking process flip the workpiece, coating evenly (Note: This product heating method: the use of water bath heating, the use of plastic container);
5, immediately after washing to do the next step, such as chemical nickel plating, chemical copper plating thickening or plating, black, imitation red bronze, black antique can also be changed.
Fifth, pay attention:
This product is used in the right time to add 0.1KG per square meter of stock solution, in order to maintain the stability of the working fluid.
Six, Stainless steel chemical copper imitation red bronze process:
Degreasing¡úwashing¡úDescaling (surface darkening)¡úwashing¡úRemove the black film¡úwashing¡úQ / YS.156 stainless steel copper plating liquid 30¡æ-45¡æ,8 minutes -10 minutes¡úwashing¡úSecondary washing¡úWorkpiece rust and passivation 30¡æ-45¡æ, 2 minutes¡úwashing¡úcopper layer blackening treatment¡úwashing¡úBrushed, red bronze¡úRust treatment for 1 minute¡úwashing¡údrying¡úVarnish
Other processing£ºChemical Plating Liquid Train¡¢Metal polishing Agent¡¢Metal cleaning agent¡¢Stainless steel chemical thicker liquid copper plating