Product list
Contact us
Tax Registration Number: 91440101552358350G
Bank:BANK OF CHINA GUANGZHOU ZENGCHENG ZHONGXIN SUB-BR
Account :705569418477
E-mail: gdyshg@163.com
Tel: 15118868698 020-87471488
Business address:The new town of Zengcheng District of Guangzhou Ctiy in Cunjing Fung pui road 30
The current position:Home > products > Chemical Plating Liquid Train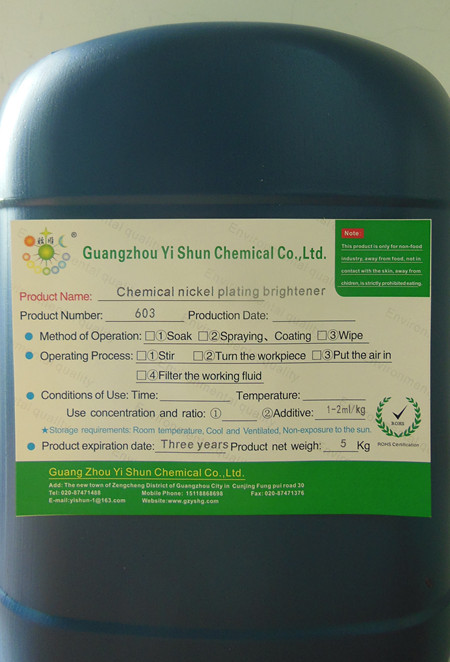 Product Name:Chemical nickel plating brightener
Price:
Chemical nickel plating brightener
Chemical nickel plating brightener
I.Product no. : Q/YS.603 (yishun brand)
II. Scope of application:
This product is widely used in chemical nickel plating solution. The addition of this agent can significantly improve the brightness and bonding strength of the coating, meanwhile, it can greatly improve the stability of nickel plating solution, improve the service cycle of the plating solution, reduce production cost and improve the quality of the product.
III. Product features:
Contains no heavy metals and toxic substances.
Rapid plating will not be affected.
IV. Product indicators:
Pale blue clear liquid, odourless,
Ratio: > 1.0 3.PH: 0.5-1.0
V. product usage:
Add the brightener 1-2ml/kg to the base solution of electroless nickel plating, and it can be used after stirring evenly
Other processing:Chemical Plating Liquid Train、Zinc coating imitation gold agent、Stainless steel chemical thicker liquid copper plating、Chemical nickel plating liquid、 Nickel surface treatment agent series