Product list
Contact us
Tax Registration Number: 91440101552358350G
Bank:BANK OF CHINA GUANGZHOU ZENGCHENG ZHONGXIN SUB-BR
Account :705569418477
E-mail: gdyshg@163.com
Tel: 15118868698 020-87471488
Business address:The new town of Zengcheng District of Guangzhou Ctiy in Cunjing Fung pui road 30
The current position:Home > products > Chemical Plating Liquid Train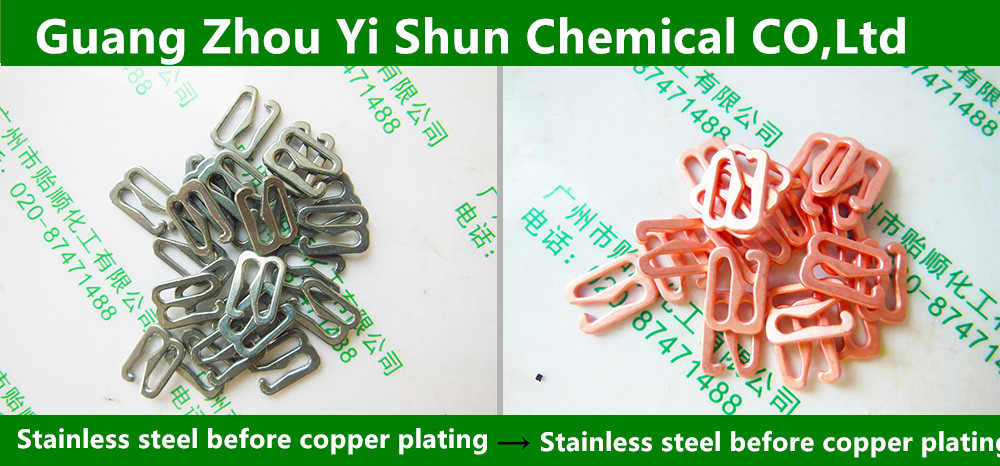 Product Name:Brush Copper Plating Solution, Cyanide-free Brush Copper Plating Agent, Large Process Brush Copper Plating, Bright Rapid Brush Copper Plating , Brush Copper Plating Restoration Solution
Price:
Brush Copper Plating Solution, Cyanide-free Brush Copper Plating Agent, Electrolytic Copper Plating, Large Process Brush Copper Plating, Bright Rapid Brush Copper Plating , Brush Copper Plating Restoration Solution
Brush Copper Plating Solution, Cyanide-free Brush Copper Plating Agent, Electrolytic Copper Plating, Large Process Brush Copper Plating, Bright Rapid Brush Copper Plating , Brush Copper Plating Restoration Solution
Brush Copper Plating Solution, Cyanide-free Brush Copper Plating Agent, Large Process Brush Copper Plating, Bright Rapid Brush Copper Plating
I. product number: Q/YS.146 (yishun brand)
II. Product advantages and performance
Product is suitable for the hardware of large size copper brush plating, simply brush plating machine and the company of the brush plating copper potions, copper brush plating, simple operation, can be thick copper brush plating, copper plating structure compact, low stress, and excellent adhesion, substrate material is suitable for the surface of nickel, copper alloys and nonmetallic materials surface of brush plating surface. More suitable for repairing machine parts, etc., the use of this product without emissions, very environmentally friendly.
III. Product indexes
1. Appearance: blue transparent odorless liquid
2. Specific gravity: > 1.0
3. PH: < 6.0
IV. Product usage:
The electromechanical pressure of brush plating was adjusted at 4-15 v. The cathode clamp of the brush plating machine was connected to the plated workpiece. The copper plating solution was adhered to the anode plating brush and moved back and forth on the clean surface of the pretreated workpiece.
Other processing:Chemical Plating Liquid Train、Environmental degreer and rust remover、Brass Green Chemical polishing Agent、Electroless plating of real gold on copper surface、Strong oil stain removal agent、Copper、chromium and nickel stripping agent