Product list
Contact us
Tax Registration Number: 91440101552358350G
Bank:BANK OF CHINA GUANGZHOU ZENGCHENG ZHONGXIN SUB-BR
Account :705569418477
E-mail: gdyshg@163.com
Tel: 15118868698 020-87471488
Business address:The new town of Zengcheng District of Guangzhou Ctiy in Cunjing Fung pui road 30
The current position:Home > products > Chemical Plating Liquid Train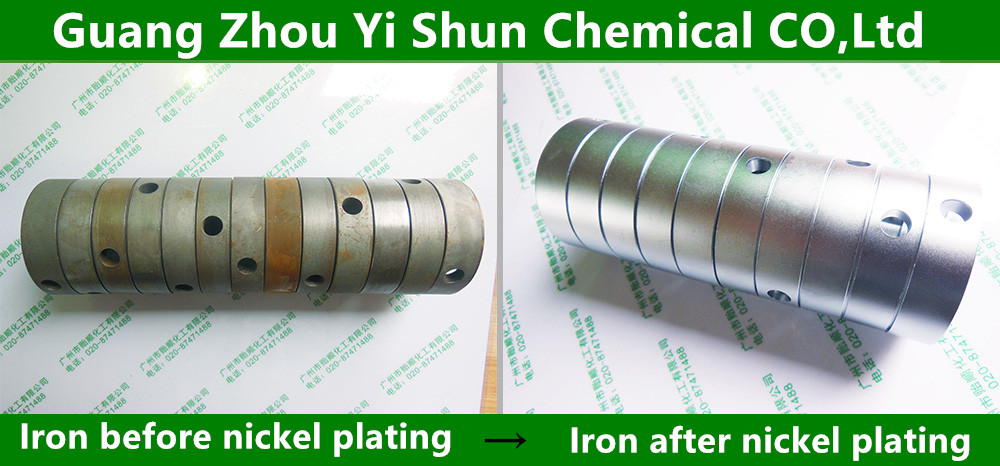 Product Name:Brush Nickel Plating liquid, Brush Nickel Plating Solution, Metal Rapid Bright Brush Nickel Plating Solution
Price:
Brush Nickel Plating Water, Brush Nickel Plating Solution, Metal Rapid Bright Brush Nickel Plating Solution, Rapid Nickel Brush Plating Solution, Thickness Repair of Nickel Solution, Local Brush Nickel Plating Solution
Brush Nickel Plating Water, Brush Nickel Plating Solution, Metal Rapid Bright Brush Nickel Plating Solution, Rapid Nickel Brush Plating Solution, Thickness Repair of Nickel Solution, Local Brush Nickel Plating Solution
Brush Nickel Plating liquid, Brush Nickel Plating Solution, Metal Rapid Bright Brush Nickel Plating Solution
I. product number: Q/YS.621 (yishun brand)
II. Product advantages and performance
This product is suitable for large brush plating nickel on the surface of the metal artifacts, such as the surface of steel, copper and copper alloy surface, can be in a short period of time on the thick layer of nickel plating, don't need plating tank, unlimited space, simple operation, no emissions, product non-toxic harmless, is environmental protection product, also can be used for parts in the mechanical equipment fast brush plating nickel, repair the workpiece size.
III. Product indexes
1. Appearance: transparent and odorless, blue liquid
2. Specific gravity: >1.0
3. Neutral liquid: PH value 7.2-7.5
IV. Product usage:
1. the workpiece to be processed in addition to oil, rust, acid, activation
2. Adjust the electromechanic pressure of brush plating to 8-14 volts. The cathode clamp chain receives the plated workpiece.
Other processing:Chemical Plating Liquid Train、Environmental degreer and rust remover、Stainless Steel Polishing Agentas、Electroless plating of real gold on copper surface、Strong oil stain removal agent、Electroless plating of real gold on copper surface