Product list
Contact us
Tax Registration Number: 91440101552358350G
Bank:BANK OF CHINA GUANGZHOU ZENGCHENG ZHONGXIN SUB-BR
Account :705569418477
E-mail: gdyshg@163.com
Tel: 15118868698 020-87471488
Business address:The new town of Zengcheng District of Guangzhou Ctiy in Cunjing Fung pui road 30
The current position:Home > products > Chemical Plating Liquid Train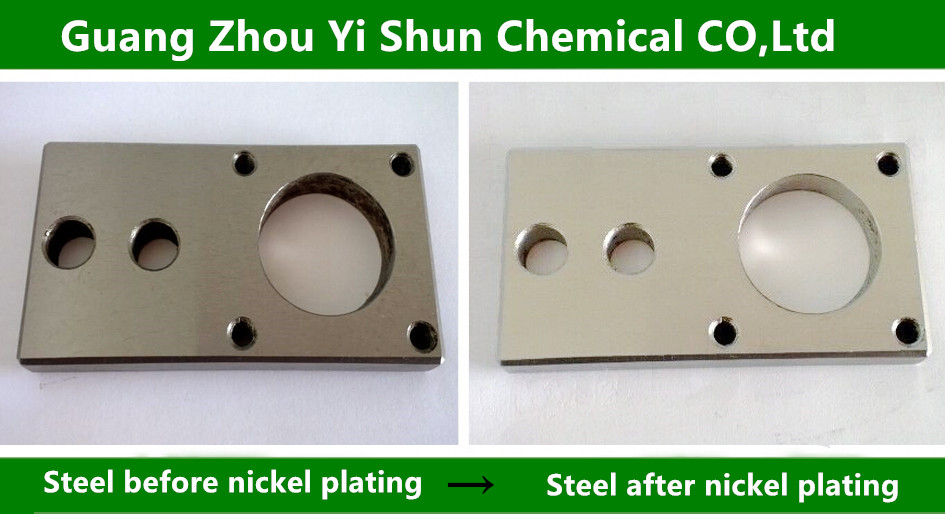 Product Name:Chemical nickel plating liquid(copper/iron/lead substrate), Chemical nickel plating agent , Bright nickel plating liquid, Gold electroless nickel plating solution , Chemical plating bright nickel layer
Price:
chemical nickel plating liquid(copper/iron/lead substrate), chemical nickel plating liquid , plastic surface nickel plating liquid , bright nickel plating agent, Gold electroless nickel plating solution , Electroless nickel plating composition , Chemical plating bright nickel layer , Electroless nickel plating process
Chemical nickel plating liquid(copper/iron/lead substrate), Chemical nickel plating agent , Bright nickel plating liquid, Gold electroless nickel plating solution , Chemical plating bright nickel layer
First, the product code: Q / YS.602-2 (Yi Shun brand)
Second, the product uses and advantages:
This product is suitable for direct plating of chemical nickel on copper substrate, iron substrate and other surfaces, especially for miscellaneous brass inferior brass. The surface of lead brass is directly coated with chemical nickel. The coating is bright and complete without plating and good adhesion. This product is also suitable for nickel plating on the surface of lead substrate. For non-temperature-resistant plastic resin, and non-acid-resistant non-metallic materials, this product has a unique advantage, the substrate can be plated copper, lead brass, lead, tungsten, zinc, tin, silver and other surfaces.
Third, product index:
①, This product consists of A agent, B agent, C agent three components
②, A agent is a green liquid, odorless, specific gravity> 1.0
③, B agent is a colorless transparent liquid, a slight odor
④, C agent is a supplement, colorless and transparent liquid, a slight odor
Fourth, the use of methods:
①, the preparation of chemical nickel plating liquid: press A: B: water = 1: 2: 7 mixed. For example: first prepare 7 kg of pure water (or clean tap water), add 1 kg of A agent after mixing, add 2 kg of B agent, stir, nickel-plated liquid can be plastic containers, glass, ceramic containers and other non-metallic containers, slowly heating nickel working solution to 40-50 ℃, be careful not to over-temperature.
②, the pre-treatment of the workpiece (copper, iron, lead, or activated non-metallic materials) into the 40-50 ℃ chemical nickel plating.
③, according to the coating thickness requirements to determine the time of chemical plating, plating speed 25um / hour.
④, half-way bath management: adjust the PH value to 8-10, you can add A and C to balance the PH value, A: C ratio of 1: 1, the additional amount of 2% -3% -1.5% A, stir evenly, then add 1% -1.5% C while stirring plus.
Fifth, note:
①, temperature control at 40-50 ℃, do not exceed 50 ℃.
②, PH value control can be between 8-10.
③, nickel-plated finish with hot water to clean, if necessary,also can passivation.
Other processing:Chemical Plating Liquid Train、Environmental degreer and rust remover、Stainless Steel Polishing Agentas、Brass Green Chemical polishing Agent、Electroless plating of real gold on copper surface、Strong oil stain removal agent