Product list
Contact us
Tax Registration Number: 91440101552358350G
Bank:BANK OF CHINA GUANGZHOU ZENGCHENG ZHONGXIN SUB-BR
Account :705569418477
E-mail: gdyshg@163.com
Tel: 15118868698 020-87471488
Business address:The new town of Zengcheng District of Guangzhou Ctiy in Cunjing Fung pui road 30
The current position£ºHome > products > Chemical Plating Liquid Train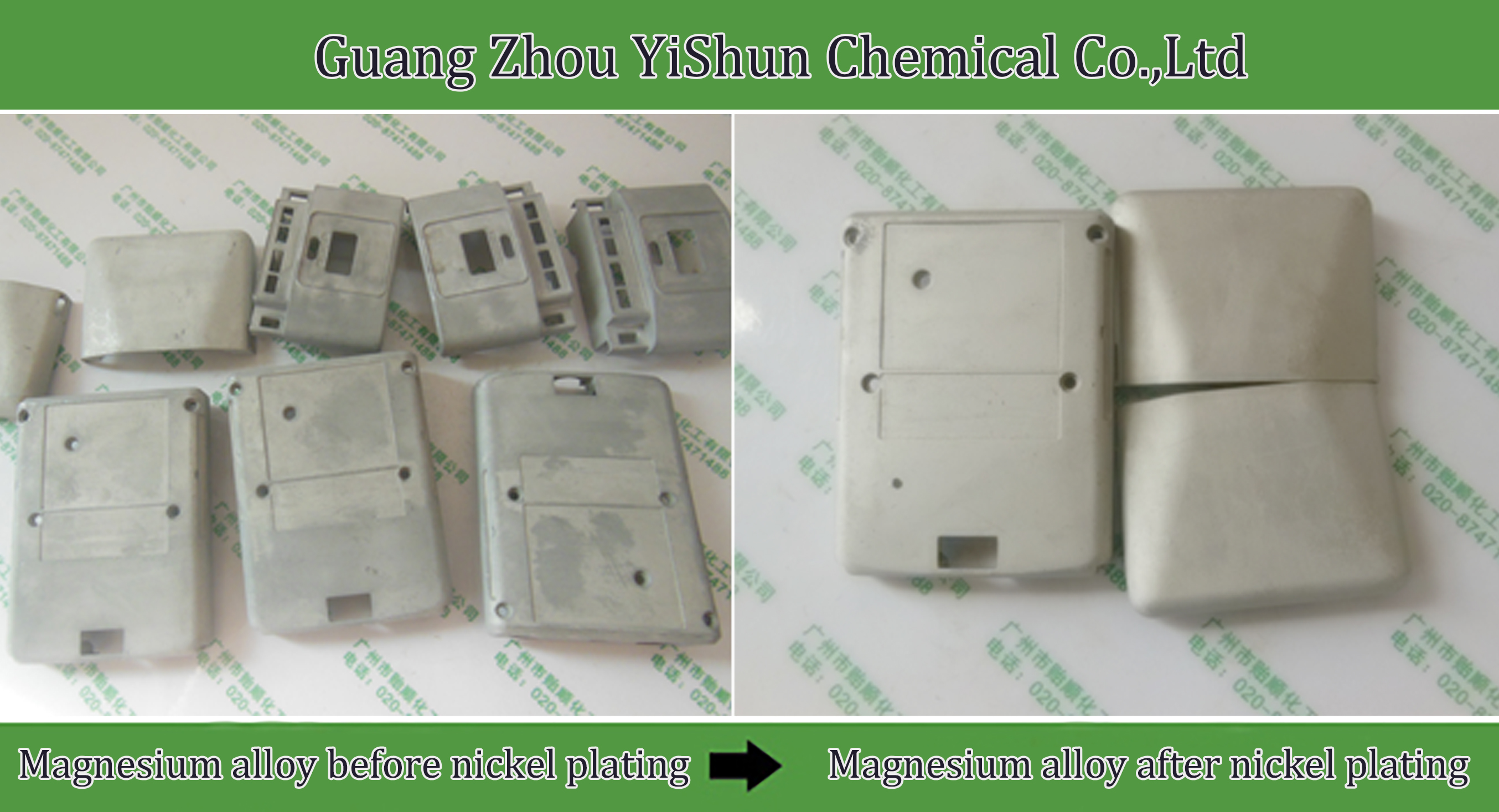 Product Name£ºMagnesium alloy dedicated chemical nickel plating liquid£¬ high quality chemical nickel plating agent£¬magnesium alloy surface chemical nickel plating liquid£¬Magnesium alloy chromium-free pretreatment liquid
Price£º
magnesium alloy dedicated chemical nickel plating liquid£¬hardware chemical nickel plating£¬ high quality chemical nickel plating agent£¬nickel plating process£¬magnesium alloy surface chemical nickel plating agent£¬Magnesium alloy chromium-free pretreatment liquid
Magnesium alloy dedicated chemical nickel plating liquid£¬ high quality chemical nickel plating agent£¬magnesium alloy surface chemical nickel plating liquid£¬Magnesium alloy chromium-free pretreatment liquid
1.Product number: Q/YS. 825(Yi Shun brand)
2.Product usage:
This product is specially used for chemical nickel plating on the surface of magnesium alloy. There is excellent bonding strength between the nickel layer and the magnesium alloy.After nickel plating can solve the problem of corrosion because of many advantages of magnesium alloy. It can greatly enhance the value of the use of magnesium alloy.
3. Product index:
¢Å This product is make up of A agent,B agent and C agent.
¢ÆA agent is deep green liquid; B agent is colorless and transparent liquid, no odor; C agent is colorless, transparent liquid, there is smell.
¢Ç proportion of A: £¾1.0 proportion of B: £¾1.0 proportion of C: ¡Ö1.0
¢È A£ºB£ºdeionized water=1£º2£º7
4. Operation process:
¢Å the removal of oil and polishing treatment of magnesium alloy material: magnesium alloy special chemical polishing liquid can be used for chemical polishing of magnesium alloy. Rinse with water after polishing.
¢Æ Pretreatment of nickel plating: The magnesium alloy is immersed in the pretreatment agent Q/YS.824 at room temperature for 5 minutes.
¢Ç take out magnesium alloy for washing.
¢È chemical nickel plating of magnesium alloy, the magnesium alloy special nickel plating liquid is prepared into the work liquid according to A:B: water =1:2:7, and heated to 80¡æ-90¡æ. The magnesium alloy is immersed in the working fluid for more than 1.5 hours of nickel plated.
¢É washing clean, you can do the following treatment, such as thickened nickel plating, copper plating, plating other metal layer.
5. Matters needing attention:
¢Å the temperature of nickel plated is 80¡æ-90¡æ.
¢Æ the pH value of nickel plating is controlled in 6.5-7.0
¢Ç the preparation of nickel plating liquid need to prepare distilled water such as pure water. Tap water cannot be used for the preparation of nickel plating liquid.
¢È nickel plating time should be more than 1.5 hours. If the subsequent process need to chemical copper plating, nickel plating time is only 20 minutes.
¢É the continuous consumption of ingredients during plating, plating speed will slow down. You can frequently supply A and C according to the number of bubbles, A: C=1:1. The consumption of one gram of metal nickel need add 10 ml of A and C. If you need supply a large number of additional A and C, the first to cool to stop plating and then add C, A supplements. As long as stirred evenly, nickel plating can be carried out.
Other processing£ºChemical Plating Liquid Train¡¢Environmental degreer and rust remover¡¢Stainless Steel Polishing Agentas¡¢Brass Green Chemical polishing Agent¡¢Electroless plating of real gold on copper surface¡¢Strong oil stain removal agent¡¢Copper¡¢chromium and nickel stripping agent