Product list
Contact us
Tax Registration Number: 91440101552358350G
Bank:BANK OF CHINA GUANGZHOU ZENGCHENG ZHONGXIN SUB-BR
Account :705569418477
E-mail: gdyshg@163.com
Tel: 15118868698 020-87471488
Business address:The new town of Zengcheng District of Guangzhou Ctiy in Cunjing Fung pui road 30
The current position:Home > products > Chemical Plating Liquid Train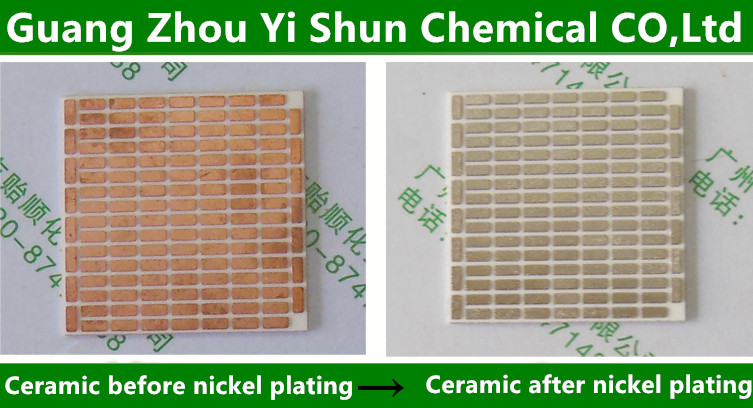 Product Name:Spraying type chemical nickel plating liquid ,Acidity chemical nickel plating ,Environmental Chemical nickel plating ,Metal electroless nickel plating,Non-metallic nickel plating
Price:
Spraying type chemical nickel plating liquid,large-scale chemical nickel plating ,acidity chemical nickel plating ,nickel plating process , high quality chemical nickel plating agent ,Environmental chemical nickel plating ,Chemical nickel plating thickness , Metal electroless nickel plating,Non-metallic nickel plating , Spray type nickel plating liquid
Spraying type chemical nickel plating liquid ,Acidity chemical nickel plating ,Environmental Chemical nickel plating ,Metal electroless nickel plating,Non-metallic nickel plating
First, the product code: Q / YS.604 (Yi Shun brand)
Second, product performance:
This product is widely used in all kinds of large workpieces, such as stone, stone image, FRP resin, wood, ceramic and other non-metallic materials, nickel plating, just use the spray method, without electricity, easy to operate, the effect is satisfactory.
Third, product index:
The product is made up of A agent and B agent. preparations, when used, A: B: water = 1: 2: 7 and heated to 90 ℃ ± 3 ℃. A agent is green liquid and agent B is transparent colorless liquid.
Fourth, the use of methods:
① polished non-metallic surface finishing.
② roughening treatment.
③ washing and processing.
④ activation treatment, natural dry, activator Q / YS.628
⑤ spray nickel: Press A: B: water = 1: 2: 7 heated to 65 ℃ ± 5 ℃, and then install the sprayer, immediately spray nickel, spray can continue thickening nickel plating.
⑥ use more than 5 minutes, depending on the thickness of the coating may be.
Fifth, note:
① spray nickel water temperature to reach 65 ℃ ± 5 ℃.
② activation treatment, can not be washed, you can air-dry or dry.
③ after nickel plating, if you want to spray copper, it should be carried out quickly, can not be separated too long, in order to prevent poor coating adhesion problems.
Other processing:Chemical Plating Liquid Train、Environmental degreer and rust remover、Stainless Steel Polishing Agentas、Brass Green Chemical polishing Agent、Electroless plating of real gold on copper surface、Strong oil stain removal agent、Copper、chromium and nickel stripping agent