Product list
Contact us
Tax Registration Number: 91440101552358350G
Bank:BANK OF CHINA GUANGZHOU ZENGCHENG ZHONGXIN SUB-BR
Account :705569418477
E-mail: gdyshg@163.com
Tel: 15118868698 020-87471488
Business address:The new town of Zengcheng District of Guangzhou Ctiy in Cunjing Fung pui road 30
The current position£ºHome > products > Chemical Plating Liquid Train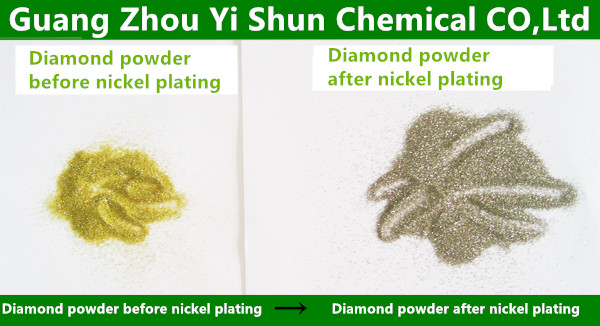 Product Name£ºSpecial chemical nickel plating liquid for micro powder £¬Ceramic surface chemical nickel plating£¬Nickel plating agent on plastic surface£¬Acid chemical nickel plating liquid£¬Liquid to sink nickel
Price£º
Special chemical nickel plating liquid for micro powder £¬ceramic surface chemical nickel plating£¬nickel plating agent on plastic surface£¬ acid chemical nickel plating agent
Special chemical nickel plating liquid for micro powder £¬Ceramic surface chemical nickel plating£¬Nickel plating agent on plastic surface£¬Acid chemical nickel plating liquid£¬Liquid to sink nickel
First, product number £ºQ/YS.612 (Yi Shun brand)
Second, Product application scope and advantages£º
This product is special in chemical nickel plating on the surface of various powder, suitable for alpha -AhO3 alumina powder (¦µ¡Ý3¦Ìm), diamond powder (¦µ¡Ý3¦Ìm), and graphite powder surface (¦µ¡Ý3¦Ìm). Make chemical nickel plating on the plating layer. The powder coated by this product has excellent dispersion properties. Particles are not linked and not form a group, a single body can be plated coating completely. And nickel plating process only need artificial or mechanically agitate to disperse without ultrasonic.
Third, product index£º
1. This product is composed of A, B, C three components.
2. A agent was dark green, the proportion is more than 1, odorless.
3. B agent liquid is light yellow£¬ transparent, slight and mild acidity
4. C agent is a colorless transparent liquid, there is a small amount of ammonia smell
Fourth, Operation process£º
Coarse powder¡úwashing and neutralization¡úwashing and activation Q/YS.628¡úDo not wash and directly drying£¨60¡æ£¬1-2h£©¡úDon't wash and grinding sieving¡úchemical nickel plating 90¡æ£¬PH£º4.8¡À0.2 £¬mechanical agitation¡úwashing£¬stewing£¬settlement¡údrying£¨105¡æ,1-2h£©¡úSubsequent treatment, such as: heated treatment, electroplating, etc..
Fifth, note:
Matters needing attention£º
1 there will be constant loss during chemical nickel plating, so it is best to add devices quantitatively and continuously , and control the pH value in the range of 4.8¡À0.2, by the way adding A and C two agent.
2.Nickel plating temperature control in 85 degrees -93 degrees Celsius, preferably with automatic temperature control equipment.
3. Nickel plating need to keep the mechanical stirring so that the coating is uniform
4. do not put into too much powder at a time because of the very large surface area of the powder, loading ratio should also be small diameter: l powder 3-5g/ 3-5 m, Phi: powder 5-10g/ 5-10 m, Phi: powder 10-30g/ 10-30 M L. The smaller diameter of the powder£¬Load ratio should be smaller£¬¦µ£º3-5¦Ìm micro-powder 3-5g/L£¬¦µ£º5-10¦Ìmicro-powder 5-10g/L£¬¦µ£º10-30¦Ìm micro-powder 10-30g/L.
Other processing£ºChemical Plating Liquid Train¡¢Environmental degreer and rust remover¡¢Brass Green Chemical polishing Agent¡¢Electroless plating of real gold on copper surface¡¢Strong oil stain removal agent¡¢Copper¡¢chromium and nickel stripping agent