Product list
Contact us
Tax Registration Number: 91440101552358350G
Bank:BANK OF CHINA GUANGZHOU ZENGCHENG ZHONGXIN SUB-BR
Account :705569418477
E-mail: gdyshg@163.com
Tel: 15118868698 020-87471488
Business address:The new town of Zengcheng District of Guangzhou Ctiy in Cunjing Fung pui road 30
The current position:Home > products > Chemical Plating Liquid Train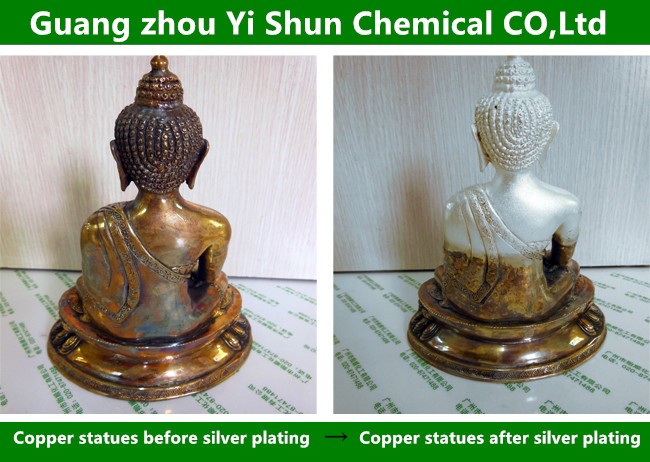 Product Name:Chemical silver plating liquid (copper substrate),Silver plating agent ,Chemical silver plating agent ,Electroless silver plating solution, Chemical copper silver plating agent , Silver plating solution for copper alloy
Price:
chemical silver plating liquid (copper substrate),metal silver plating process ,silver plating agent , plating silver on the copper ,chemical silver plating agent ,Electroless silver plating solution, Liquid silver plating ,Chemical copper silver plating agent , silver plating solution for copper alloy ,Fast silver plating solution
Chemical silver plating liquid (copper substrate),Silver plating agent ,Chemical silver plating agent ,Electroless silver plating solution, Chemical copper silver plating agent , Silver plating solution for copper alloy
First, the product code: Q / YS.801 (Yi Shun brand)
Second, the scope of products:
This product is suitable for all kinds of copper alloy surface silver treatment, the product can be used repeatedly. This product is stable without decomposition, silver-white coating. Product environmental protection, safe use.
Third, product index:
① product is light yellow transparent liquid, odorless.
② proportion: 1.05 ± 0.03
③ PH value: <6, slightly acidic products
Fourth, the use of methods:
① this product is used stock solution.
② copper alloy degreasing rust, immersed in the above silver working solution, room temperature 25℃-35℃ soak 6-8min, silver is completed.
③ remove the silver-plated pieces, fully washed in deionized water.
④ environmental passivation color retention 5min.
⑤ washed
⑥ timely drying
Fifth Notes:
① wear latex gloves operation.
② full use deionized water or distilled water to clean.
③ silver before the copper parts degreasing rust or polishing.
Sixth, production sketch:
Degreasing(Q/YS.904)→Washing→Chemical polishing(Q/YS.106 or Q/YS.105)→Washing→Washing again→Deionized water washing→Chemical silver plating 6 to 8 minutes(Q/YS.801)→Washing→Silver passivation color (Q / YS.804)→Washing→Drying
Other processing:Environmentally friendly stripping agent series、Chemical nickel plating liquid、Environment-friendly silver removal liquid、Metal polishing Agent、Silver layer blackening agent