Product list
Contact us
Tax Registration Number: 91440101552358350G
Bank:BANK OF CHINA GUANGZHOU ZENGCHENG ZHONGXIN SUB-BR
Account :705569418477
E-mail: gdyshg@163.com
Tel: 15118868698 020-87471488
Business address:The new town of Zengcheng District of Guangzhou Ctiy in Cunjing Fung pui road 30
The current position:Home > products > Chemical Plating Liquid Train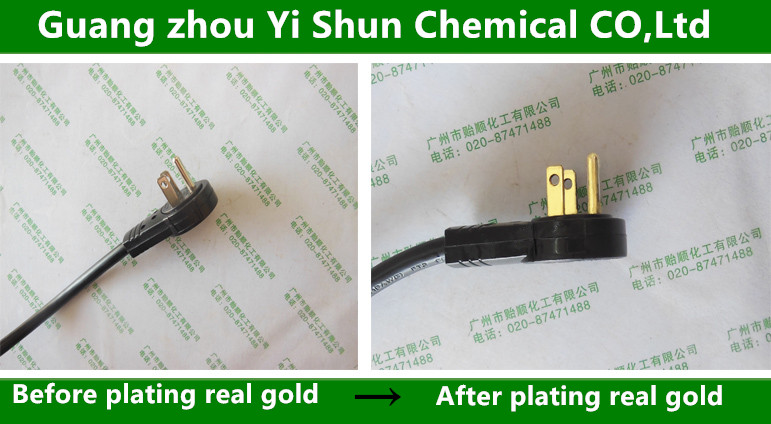 Product Name:Environmental chemical gold plated liquid ,Non-cyanide gold plated agent, Chemical real gold plating, Surface chemical genuine gold plating ,High quality gold plated agent
Price:
environmental chemical gold plated liquid ,non-cyanide gold plated agent, chemical gold plating , chemical real gold plating, surface chemical genuine gold plating ,High quality gold plated agent ,Chemical gold plating process
Environmental chemical gold plated liquid,Non-cyanide gold plated agent, Chemical real gold plating,Surface chemical genuine gold plating,High quality gold plated agent

First, the product code: Q / YS.805 (Yi Shun brand)
Second, product performance:
This product is suitable for nickel plating layer, chemical nickel plating layer and other metal surfaces for chemical gold plating (real gold).Gold-plated layer without porosity, the appearance of golden yellow.Environmental non-toxic, cyanide-free heavy metals, can be bold operation.Completely replace the gold plating, gold-plated chemical gold operation simple and stable.
Third, product index:
①PH <5
②appearance color: light yellow transparent liquid
Fourth, the use of methods:
①pre-treatment: including activation of the nickel layer.
②put the environmental protection chemical gold plating liquid
in a plastic container, heat it to 96 ℃ -98 ℃ in a water bath, then clean the activated copper or nickel workpiece in 96 ℃ -98 ℃ gold plating liquid, Keep the plating at 96 ℃ -98 ℃ for 1-3 minutes. Remove the workpiece.
③washing, drying.
Fifth, note:
①the temperature of the gold-plated product to be controlled at 96 ℃ -98 ℃.
②before plating the workpiece must be activated, otherwise it will affect the coating adhesion.
③chemical gold-plated liquid is packed in a plastic container and heated by a water bath.
Other processing:Chemical Plating Liquid Train、Environmental degreer and rust remover、Stainless Steel Polishing Agentas、Brass Green Chemical polishing Agent、Electroless plating of real gold on copper surface、Strong oil stain removal agent、Environmental non-cyanide gold removal liquid