Product list
Contact us
Tax Registration Number: 91440101552358350G
Bank:BANK OF CHINA GUANGZHOU ZENGCHENG ZHONGXIN SUB-BR
Account :705569418477
E-mail: gdyshg@163.com
Tel: 15118868698 020-87471488
Business address:The new town of Zengcheng District of Guangzhou Ctiy in Cunjing Fung pui road 30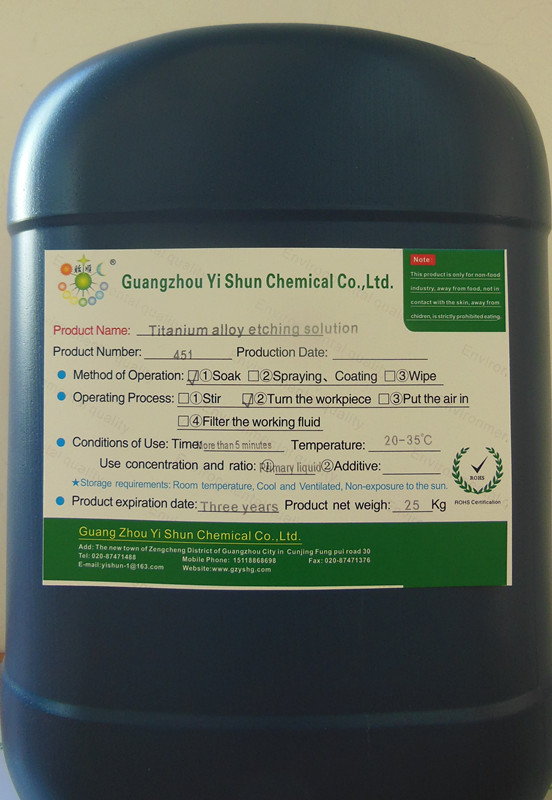 Product Name:Titanium alloy etching solution,Metal etching solution , Chemical etching fluid , Etching liquid
Price:
Titanium alloy etching solution,Metal etching solution , Chemical etching fluid , Etching liquid
First, the product code: Q / YS.451 (Yi Shun brand)
Second, the product uses:
This product is suitable for titanium alloy etching, such as lettering, chemical engraving patterns, etching speed, etching does not hurt after the formation of ink and plastic film.
Third, the use of methods:
The use of product liquid, the product is yellowish green.
Operating temperature: 20℃-35 ℃,
Immersion of the workpiece about a few minutes (1-5 minutes), you can remove the titanium layer clean.
Fourth, note:
This product is corrosive, not in contact with the skin.
This product is volatile, dressed in plastic containers and should be capped.
Other processing:Chemical nickel plating liquid、Metal polishing Agent、Copper surface treatment agent series、Iron and steel surface treatment agent series、Stainless steel remover for removing oil and rust