Product list
Contact us
Tax Registration Number: 91440101552358350G
Bank:BANK OF CHINA GUANGZHOU ZENGCHENG ZHONGXIN SUB-BR
Account :705569418477
E-mail: gdyshg@163.com
Tel: 15118868698 020-87471488
Business address:The new town of Zengcheng District of Guangzhou Ctiy in Cunjing Fung pui road 30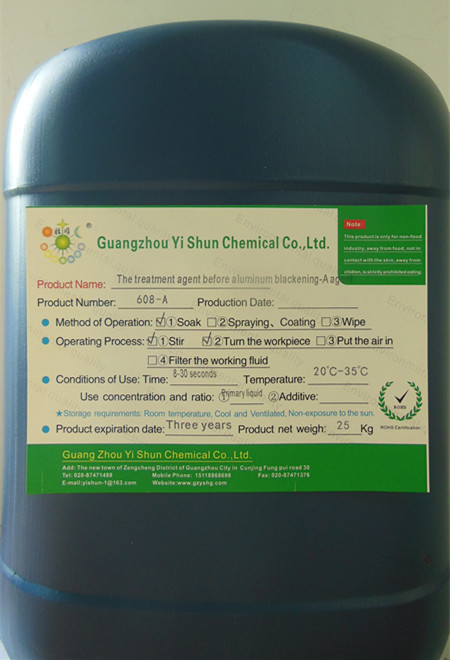 Product Name:Pre-treatment agent for chemical nickel plating on aluminum material,Metal surface pretreatment agent, Metal surface pretreatment fluid,Aluminum pretreatment agent
Price:
Pre-treatment agent for chemical nickel plating on aluminum material,Metal surface pretreatment agent, Metal surface pretreatment fluid,Aluminum pretreatment agent
First, the product code: Q / YS.608 (Yi Shun brand)
Second, the scope of products:
This product is used for the treatment of aluminum before nickel plating, so that the surface of the aluminum material is formed with a dense chemical plating in order to improve the adhesion of the nickel plating in the next step.
Third, product index:
① Appearance: light blue liquid, odorless
② Proportion: 1.20 ± 0.05
③ PH value:> 5.0
Fourth, the product operation method:
① After the degreasing and degreasing of aluminum, soak in the stock solution of agent A (Q / YS.608) A for about 8-30 seconds, take out the aluminum workpiece and wash it with water.
② Then put the workpiece before processing agent B solution soak for about 30 seconds and then washed.
③ The workpiece is again immersed in nickel plating agent A agent, about 8 seconds and then remove the workpiece, immediately washed.
④ Washed aluminum clean, you can enter the chemical nickel plating nickel.
⑤ Temperature: 20-35 ℃.
Fifth, note:
① Aluminum degreasing, degreasing or polishing before entering the pre-treatment solution (Q / YS.608).
② Pre-soaking time to control, so as not to affect the binding power.
③ Pre-treatment should be promptly washed, and timely plating chemical plating.
④ Products are corrosive, be careful not to contact with the skin.
Other processing:Chemical Plating Liquid Train、Chemical nickel plating liquid、Aluminum surface treatment agent series、Metal cleaning agent、Nickel removal liquid、Stainless steel remover for removing oil and rust