Product list
Contact us
Tax Registration Number: 91440101552358350G
Bank:BANK OF CHINA GUANGZHOU ZENGCHENG ZHONGXIN SUB-BR
Account :705569418477
E-mail: gdyshg@163.com
Tel: 15118868698 020-87471488
Business address:The new town of Zengcheng District of Guangzhou Ctiy in Cunjing Fung pui road 30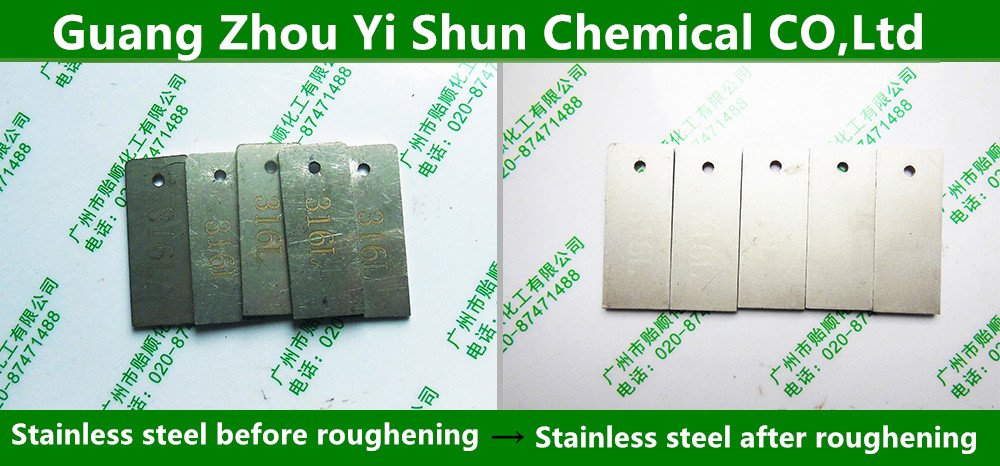 Product Name:Coarsening Agent,Chemical Analysis Auxiliaries,Non-metal surface coarsening Agent
Price:
Coarsening Agent,Chemical Analysis Auxiliaries,Non-metal surface coarsening Agent
Coarsening Agent,Chemical Analysis Auxiliaries,Non-metal surface coarsening Agent
Coarsening Agent,Chemical Analysis Auxiliaries,Non-metal surface coarsening Agent
First, the product code: Q / YS.927 (Yi Shun brand)
Second, the product uses:
This product is used for non-metallic surface roughening treatment. Such as plastic, ABS, resin, fiberglass, diamond, ceramic, etc. after the roughening of non-metallic surface will be formed in many small pits for the subsequent preparation of the metal can significantly improve the binding force.
Third, product index:
1, transparent liquid, smell.
2, PH value <4
3, the proportion of> 1.1
4, the use of stock solution, without water
5, the additive is a red solid, before use, added to the roughening liquid Stir the amount of 80-100g / KG
Fourth, the use of methods:
The first roughening agent added to the roughening liquid, stir, heated to 50-60 ℃
1, the degreasing non-metallic soaking in 50-60 ℃ coarsening agent, about 5-10 minutes to remove.
2, washed clean.
3, with a small amount of lye and surface.
Other processing:Chemical Plating Liquid Train、Special chemical nickel plating liquid for micro powder 、Rapidly electroplated copper plating liquid 、Copper rust remover and degreasing agent、High efficiency deplating agent