Product list
Contact us
Tax Registration Number: 91440101552358350G
Bank:BANK OF CHINA GUANGZHOU ZENGCHENG ZHONGXIN SUB-BR
Account :705569418477
E-mail: gdyshg@163.com
Tel: 15118868698 020-87471488
Business address:The new town of Zengcheng District of Guangzhou Ctiy in Cunjing Fung pui road 30
The current position£ºHome > products > Chemical Plating Liquid Train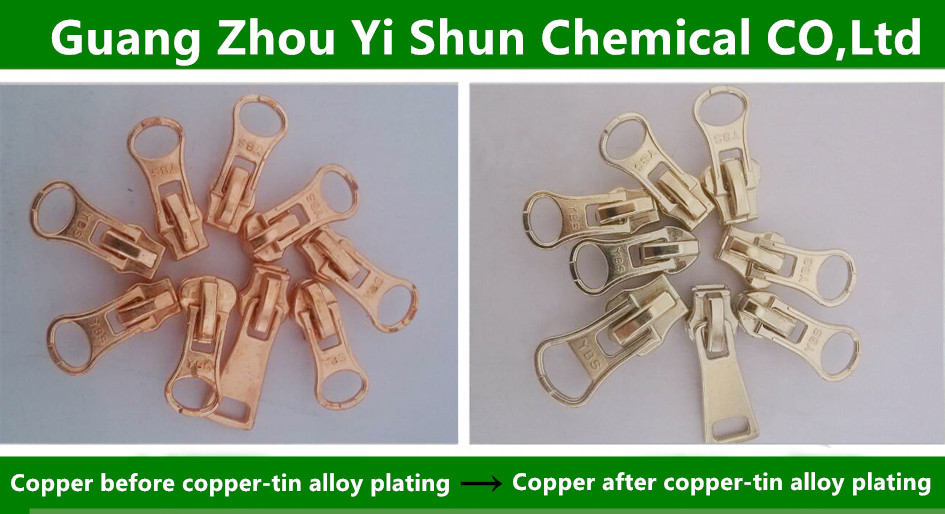 Product Name£ºChemical nickel-plated tin alloy liquid£¬ Chemical tin plating solution£¬ Environmental tin plating agent
Price£º
Chemical nickel-plated tin alloy liquid£¬ chemical tin plating solution£¬ environmental tin plating agent
Chemical nickel-plated tin alloy liquid£¬ Chemical tin plating solution£¬ Environmental tin plating agent
First, product number£ºQ/YS.614(Yi Shun brand)
Second, product advantage£º
Tin nickel alloy layer plated by the product have less porosity, dense film and not cracking at the 300¡æ test,coating has excellent corrosion resistance, heat resistance, acid and alkali resistance£¬chemical corrosion. The biggest advantages is that it has excellent weldability. It is widely used in electronic components. the introduction of metallic tin coating greatly improve the weldability, the coating can also be used in switch, knife and other electrical components.
Third, product index£º
1.A agent is green liquid, odorless
2.B Agent is light yellow (nearly colorless),no smell transparent liquid.
3.C agent is a transparent additive, there is smell.
Fourth, usage method£º
1.The open cylinder: A agent: B agent : Deionized water (pure water) =1:4:5, heating to 90¡æ plus or minus 5¡æ, is placed in glass, ceramics, heat-resistant plastic container.
2.The work piece to be plated tin alloy make pre-treatment: polishing, degreasing, acid activation.
3.Pre-treated workpieces (metal parts) shall be preheated with clean hot water at 90¡ãC to 100¡ãC for 10 to 20 seconds, and then the electroless nickel-tin plating immediately put into 90¡ãC ¡À 5¡ãC shall be taken out. Tin plating is performed on the activated aluminum parts.
4.The thickness of the coating can be controlled by the time, plating speed :20¦Ìm/ h.
Fifth, the regulation and control of plating solution£º
1.Nickel plating temperature is controlled at 90¡æ¡À5¡æ.
2.PH value of the plating solution is controlled in 9.4 ~ 9, regulate it with ammonia or dilute sulfuric acid.
3.The consumption need supplement of A and C, A:C=1:1.
Other processing£ºChemical Plating Liquid Train¡¢Zinc coating imitation gold agent¡¢Chemical silver plating liquid (copper substrate)¡¢Brass Green Chemical polishing Agent¡¢Electroless plating of real gold on copper surface¡¢Strong oil stain removal agent¡¢Environmental non-cyanide gold removal liquid