Product list
Contact us
Tax Registration Number: 91440101552358350G
Bank:BANK OF CHINA GUANGZHOU ZENGCHENG ZHONGXIN SUB-BR
Account :705569418477
E-mail: gdyshg@163.com
Tel: 15118868698 020-87471488
Business address:The new town of Zengcheng District of Guangzhou Ctiy in Cunjing Fung pui road 30
The current position:Home > products > Chemical Plating Liquid Train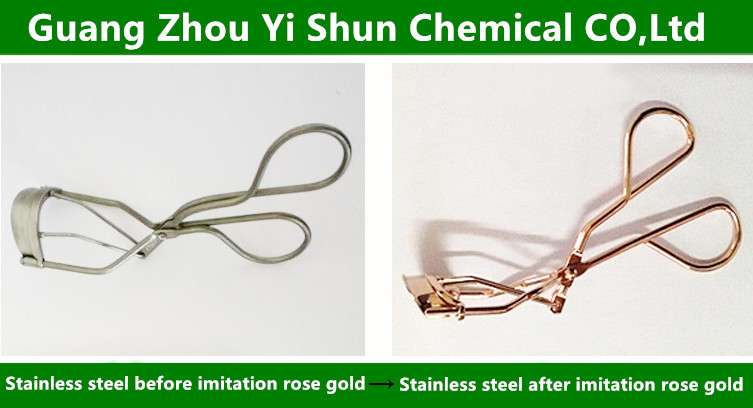 Product Name:Imitation rose gold liquid ,Chemical imitation gold liquid ,Gold coloring agent , Metal imitation gold agent , Jewelry imitation rose gold
Price:
imitation rose gold liquid ,chemical imitation gold liquid ,gold coloring agent , metal imitation gold agent ,Gold plating process of chemical imitation gold , Bracelet imitation rose gold , Jewelry imitation rose gold , Imitation rose gold processing
Imitation rose gold liquid ,Chemical imitation gold liquid ,Gold coloring agent , Metal imitation gold agent , Jewelry imitation rose gold
First, product number:Q/YS.905-2 (Yi Shun brand)
Second, product feature:
This product is applicable to imitation rose gold operations on the surface of iron,nickel,201#,207#,402#,410#,2#,4# stainless steel. The work pieces ,which are treated by this product,immediately are coated with a very elegant layer of rose gold. The Cost is low, the effect of imitation rose gold is perfect. It is widely used for Hardware furniture, cutting tools, lighting, zipper, arts and crafts and other industries product, this technology is easy to operate, filming is fast and stable alternative to imitation rose gold electroplating. Directly immersion work piece without power.
Third, product index:
1. Performance:blue,transparent liquid
2. Proportion:1.08±0.01
3. PH value:2.0-3.0
Fourth, usage method:
1. Removal of oil and pickling and then washing.
2. Pure water by twice times is added to the imitation rose golden liquid,Then add the 25g/kg imitation rose gold additive at the temperature of 25-35 degrees centigrade.
3. Clean work piece is soaked in imitation rose golden liquid for 3-8 minutes,take out the work piece (Iron and nickel contact lead to the chemical nickel layer into gold) and immediately rinse with water.
4. Chromium free passivation (Q/YS.920) is carried out.
5. Washing and drying.
6. Transparent varnish keep permanent non-discoloring.
Other processing:Chemical Plating Liquid Train、Environmental degreer and rust remover、Stainless Steel Polishing Agentas、Brass Green Chemical polishing Agent、Electroless plating of real gold on copper surface、Strong oil stain removal agent、Chemical nickel plating liquid(copper/iron/lead substrate)