Product list
Contact us
Tax Registration Number: 91440101552358350G
Bank:BANK OF CHINA GUANGZHOU ZENGCHENG ZHONGXIN SUB-BR
Account :705569418477
E-mail: gdyshg@163.com
Tel: 15118868698 020-87471488
Business address:The new town of Zengcheng District of Guangzhou Ctiy in Cunjing Fung pui road 30
The current position:Home > products > Chemical Plating Liquid Train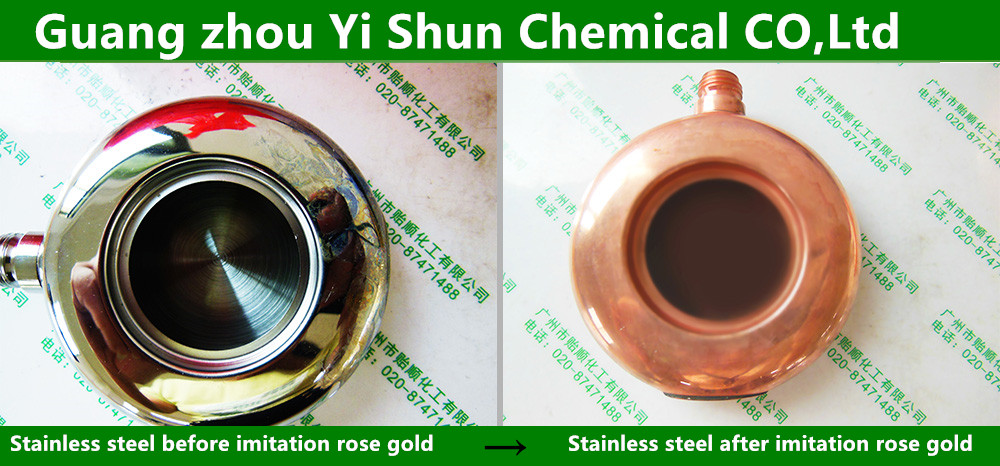 Product Name:Imitate champaign gold liquid, Metal coloring agent ,Champagne color imitate golden water , Imitation gold water for stainless steel plating , Stainless steel imitation of champagne
Price:
imitate champaign gold liquid, metal coloring agent ,Champagne color imitate golden water , imitation gold water for stainless steel plating , stainless steel imitation of champagne
Imitate champaign gold liquid, Metal coloring agent ,Champagne color imitate golden water , Imitation gold water for stainless steel plating , Stainless steel imitation of champagne
First, the product code: Q / YS.905-3 (Yi Shun brand)
Second, product features:
This product is suitable for iron and nickel and 201 #, 207 #, 402 #, 410 # 2 # 4 # stainless steel surface for imitation rose gold operation. After processing the workpiece after the workpiece is plated with a layer of rose gold, it is very elegant and beautiful. The cost of using this product is low, imitation champagne gold effect is very good. Widely used in metal furniture, knives, lighting, zippers, handicrafts and other industries, the process easy operation, rapid and stable film can replace plating imitation champagne gold, do not need electricity, direct soaking the workpiece
Third, product index:
① appearance: transparent blue liquid
② proportion: 1.08 ± 0.01
PH: 2.0-3.0
Fourth, product use method:
① degreasing and pickling the workpiece firstly, and fully rinse with water.
② the champagne gold imitation liquid will be added to 2 times the pure water, and then by adding 25g / kg tank imitation champagne gold additives, 25-35 ℃ operating conditions.
③ soak the clean workpiece immersed in champagne gold liquid, 3-8 minutes after the removal of the workpiece (for chemical nickel layer with nickel plated nickel plated champagne gold) immediately rinse with water.
④ after the workpiece imitation champagne gold processing ,then is the without chromium passivation (Q / YS.920).
⑤ washing and drying can be.
⑥ after the transparent varnish will not change color for a long time.
Other processing:Chemical Plating Liquid Train、Environmental degreer and rust remover、Stainless Steel Polishing Agentas、Brass Green Chemical polishing Agent、Electroless plating of real gold on copper surface、Strong oil stain removal agent、Chemical nickel plating liquid(copper/iron/lead substrate)