Product list
Contact us
Tax Registration Number: 91440101552358350G
Bank:BANK OF CHINA GUANGZHOU ZENGCHENG ZHONGXIN SUB-BR
Account :705569418477
E-mail: gdyshg@163.com
Tel: 15118868698 020-87471488
Business address:The new town of Zengcheng District of Guangzhou Ctiy in Cunjing Fung pui road 30
The current position:Home > products > Chemical Plating Liquid Train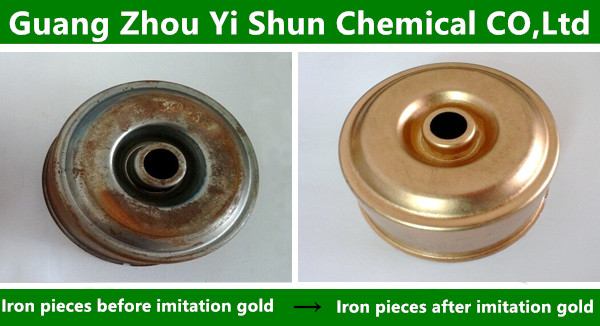 Product Name:Steel imitation gold liquid, The gold coloring agent , Metal imitation gold agent, Imitated golden liquid for the steel layer surface , Iron surface treatment
Price:
Steel imitation gold liquid, the gold coloring agent , metal imitation gold agent, imitated golden liquid for the steel layer surface ,imitation gold water for chemical plating , Iron surface treatment , Iron imitation gold
Steel imitation gold liquid, The gold coloring agent , Metal imitation gold agent, Imitated golden liquid for the steel layer surface , Iron surface treatment
First, Product number:Q/YS.909(Yi Shun brand)
Second, product features:
This product is suitable for imitation gold treatment of ordinary steel, low carbon steel and medium carbon steel surface. After removal of oil, polishing (or chemical polishing),the steel parts are soaked in steel imitation gold liquid,the steel surface will form a beautiful layer of gold metal coating and can improve the ability to rust. Operation process is simple and convenient without equipment.
Third, product index:
1. Appearance:transparent colored solution, with a slight odor;
2. Proportion:﹥1.0
3. PH value :acidic
Fourth, usage method:
1. Steel pretreatment: degreasing→acidic derusting→polishing→bright and clean steel surface.
2. Adding 2 times weight water (tap water or pure water) into the product solution .Imitation gold working fluid is formed when stir evenly, and then added 20 ~ 25g/KG additive into iron and steel imitation gold liquid,mixing evenly can enter the next step operation.
Example: add 2kg water into 1kg iron and steel imitation gold liquid solution, mixing evenly and add 60-75g iron and steel imitation gold additive.
3. Iron and steel artifacts after degreasing,rust removing and polishing are immersed in the imitation gold work liquid for 1-3 minutes, you can take out the work piece and wash immediately.
passivation layer for imitation gold: clean gold-like artifact is steeped in imitation gold passivation in 5 minutes at a temperature of 50℃ to 70 ℃.
4. The drying after washing.
Other processing:Chemical Plating Liquid Train、Zinc coating imitation gold agent、Chemical silver plating liquid (copper substrate)、Stainless steel chemical thicker liquid copper  plating、Copper oil removal passivation agent