Product list
Contact us
Tax Registration Number: 91440101552358350G
Bank:BANK OF CHINA GUANGZHOU ZENGCHENG ZHONGXIN SUB-BR
Account :705569418477
E-mail: gdyshg@163.com
Tel: 15118868698 020-87471488
Business address:The new town of Zengcheng District of Guangzhou Ctiy in Cunjing Fung pui road 30
The current position:Home > products > Chemical Plating Liquid Train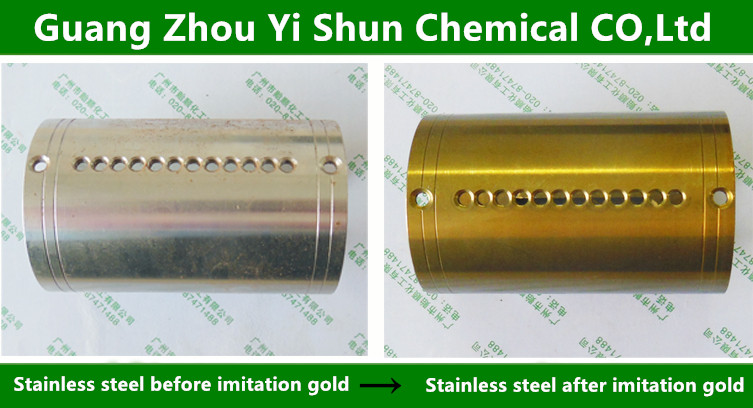 Product Name:Environmental protection imitation gold electroplating liquid,Brass with high quality and environmentally friendly electroplating ,Bright imitation gold electroplating
Price:
Environmental protection imitation gold electroplating liquid,Brass with high quality and environmentally friendly electroplating ,Bright imitation gold electroplating
Environmental protection imitation gold electroplating liquid,Brass with high quality and environmentally friendly electroplating ,Bright imitation gold electroplating
First, the product code: Q / YS.931 (Yi Shun brand)
Second, the scope of products:
This product is suitable for electroplating imitation gold on the surface of copper, iron, copper alloy, stainless steel, chemical nickel and electroplated nickel. The color of imitation gold layer is stable and bright. This product is environmentally friendly products, non-cyanide oxide, no heavy metals, no controlled substances. Suitable for barrel plating , hanging plating.
Third, product index:
This product is dark blue purple, odorless, make up of A agent and B agent two agents.A agent for the powder, B agent for the solution.
PH> 7.0
Weight:> 1.0
Fourth, the use of methods:
Plating solution preparation: Weight ratio: According to A agent (powder): B agent (liquid): pure water = 1:10:12, stir can be used after.
Anode requirements: the use of 68% -75% copper and zinc 25% -32% of the brass plate anode.
Anode and cathode area ratio of S Yang: S Yin = 2: 1
Current intensity: 1.5-2.5A / d㎡, operating temperature is 20-40 ℃.
Imitation gold power time: 30 ~ 40 seconds.
Imitated gold before activation of the workpiece, in order to improve the coating adhesion.
Other processing:Chemical Plating Liquid Train、Zinc coating imitation gold agent、Chemical silver plating liquid (copper substrate)、Brass Green Chemical polishing Agent、Electroless plating of real gold on copper surface、Strong oil stain removal agent、Environmental non-cyanide gold removal liquid