Product list
Contact us
Tax Registration Number: 91440101552358350G
Bank:BANK OF CHINA GUANGZHOU ZENGCHENG ZHONGXIN SUB-BR
Account :705569418477
E-mail: gdyshg@163.com
Tel: 15118868698 020-87471488
Business address:The new town of Zengcheng District of Guangzhou Ctiy in Cunjing Fung pui road 30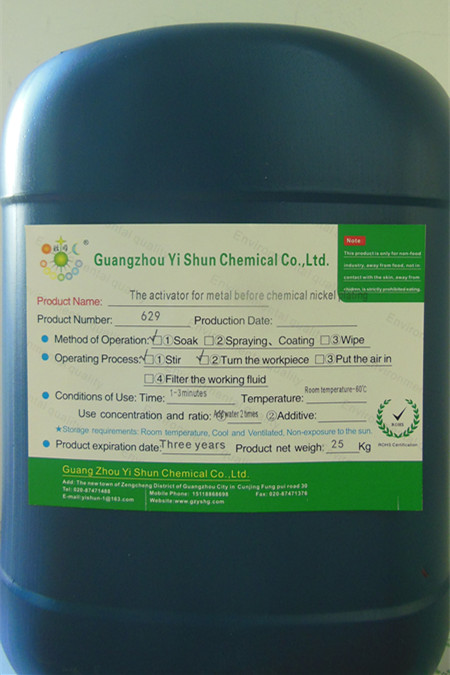 Product Name:Electroless nickel plating activator for metal electroless plating,Pre activating agent for nickel plating,Electroless nickel activator for copper electroless plating
Price:
Electroless nickel plating activator for metal electroless plating,Pre activating agent for nickel plating,Electroless nickel activator for copper electroless plating
Electroless nickel plating activator for metal electroless plating,Pre activating agent for nickel plating,Electroless nickel activator for copper electroless plating
First, the product code: Q / YS.629 (Yi Shun brand)
Second, the product uses:
This product can be widely used in the metal surface (such as: A3 iron, 201 stainless steel, tungsten steel, copper) activation before nickel plating, the metal surface can immediately form a chemical nickel layer.
Third, the use of methods:
① Activator stock solution by adding 2 times tap water (pure water better), you can use.
② The metal workpiece immersed in the activator working fluid for about 1-3 seconds, room temperature -60 ℃, turn the workpiece halfway, so that the uniform activation.
③ The activation of the workpiece is immersed in 90 ℃ ± 3 ℃ chemical nickel plating liquid to form a metal layer, the time is greater than 2-5 minutes.
④ Follow-up treatment: According to customer requirements to do other treatment (such as copper, nickel, silver, tin, etc.).
Fourth, note:
① This product is strictly prohibited with any other chemicals mixed.
② This product is strictly prohibited acid, alkali, strong heat, strong oxidants.
③ Please keep low temperature or room temperature dry conditions, stored in a cool and clean place.
Other processing:Chemical Plating Liquid Train、Chemical nickel plating liquid、Metal polishing Agent、Copper surface treatment agent series、Metal cleaning agent、Nickel removal liquid