Product list
Contact us
Tax Registration Number: 91440101552358350G
Bank:BANK OF CHINA GUANGZHOU ZENGCHENG ZHONGXIN SUB-BR
Account :705569418477
E-mail: gdyshg@163.com
Tel: 15118868698 020-87471488
Business address:The new town of Zengcheng District of Guangzhou Ctiy in Cunjing Fung pui road 30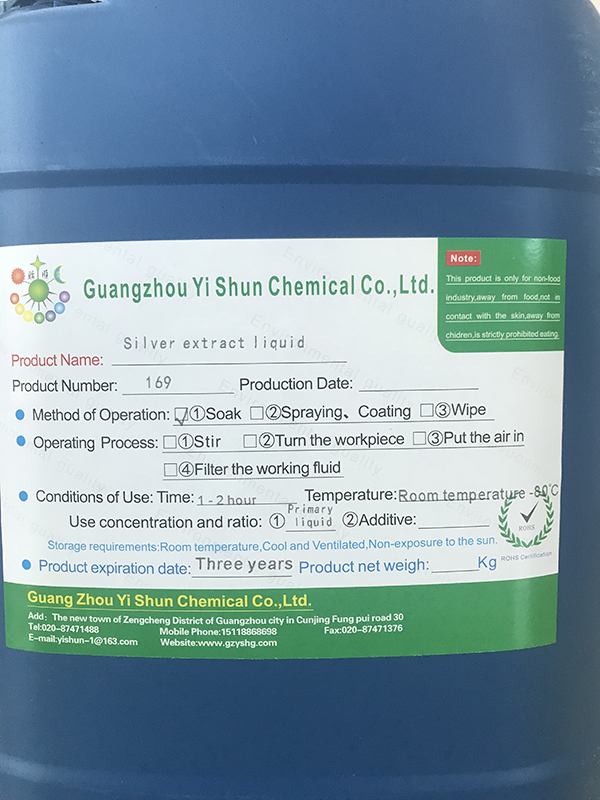 Product Name:Silver extract liquid,Silver extraction
Price:
Silver extract liquid,Silver extraction
Silver extract liquid,Silver extraction
1. Product code: Q/YS.169
2. Product performance:
this product is specially used for the reduction of various silver salts, which can be reduced and precipitated from various silver salts. The recovery rate is up to 99.8%, the reduction settlement is thorough, environmentally friendly and harmless, and the operation is simple.
3. Operation method:
(1) The silver recovery solution was adjusted to a PH value of 11.0-12.0 by sodium hydroxide solution to make the silver recovery solution alkaline.
(2) per kilogram argyrol join silver extract 100-200 - ml, stir well, silver liquid will precipitate in the silver composition, the formation of silver powder sinking to the bottom of the container and let stand for settlement of 1 to 2 hours, make the upper clear, fall off, leaving the container at the bottom of the silver powder, silver powder rinsing with pure water, settlement, so repeatedly, the silver powder after wash, get high purity silver powder.
(3) in the process of recovery of silver, heat can be appropriate to 60 ° C to 80 ° C, improve the recovery rate and recovery rate of silver.
4. matters needing attention:
1) First adjust PH value to alkalinity, with sodium hydroxide adjustment;
2) add silver extract, mixing evenly, can be heated to 60 ° C to 80 ° C;
3) Full settlement and multiple washing
For example, if the concentration of silver-containing liquid is high and the amount of silver-containing liquid is large, the amount of extract can be increased.
Other processing:Chemical Plating Liquid Train、Dedicated copper plating liquid for aluminum、Chemical silver plating liquid (copper substrate)、Stainless steel chemical thicker liquid copper plating、Copper rust remover and degreasing agent、Environmental non-cyanide gold removal liquid