Product list
Contact us
Tax Registration Number: 91440101552358350G
Bank:BANK OF CHINA GUANGZHOU ZENGCHENG ZHONGXIN SUB-BR
Account :705569418477
E-mail: gdyshg@163.com
Tel: 15118868698 020-87471488
Business address:The new town of Zengcheng District of Guangzhou Ctiy in Cunjing Fung pui road 30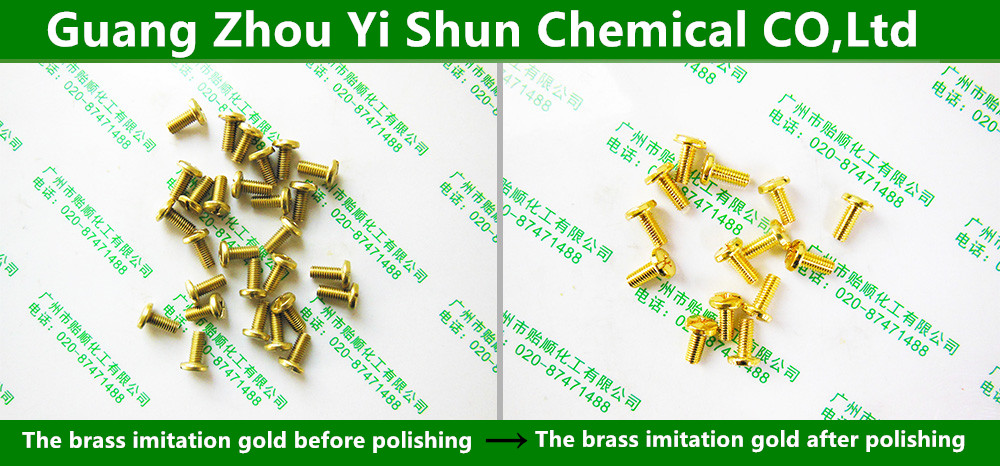 Product Name£ºMetal wire drawing brightener (no wax type),Copper alloy wire drawing brightener , Aluminum alloy brushed bright liquid , Wire drawing brightening agent , Chemical wire-drawing brightening solution
Price£º
metal wire drawing brightener (no wax type),copper alloy wire drawing brightener , Aluminum alloy brushed bright liquid , Wire drawing brightening agent , chemical wire-drawing brightening solution
Metal wire drawing brightener (no wax type),Copper alloy wire drawing brightener , Aluminum alloy brushed bright liquid , Wire drawing brightening agent , Chemical wire-drawing brightening solution
First, the product code: Q / YS.216 (Yi Shun brand)
Second, product features:
This product can be used for a variety of metals, including pure aluminum and aluminum alloy, copper alloy, zinc alloy, stainless steel brushed brushed. It features excellent brushed finish and is easy to clean. As this product is different from other wax products in the market, it can greatly reduce the cost of cleaning wax, saving a lot of labor and material costs. Environmental non-toxic, this product itself also has excellent cleaning function. Therefore, the product set wire drawing bright, cleaning two effects in one, more economical.
Third, product index:
1, light yellow sticky paste, transparent
2, PH value> 7
3, the proportion of> 1.0
Fourth, the use of methods:
1, metal pre-treatment, degreasing coating with metal wire drawing brightener.
2, using wire drawing machine, you can get bright wire drawing surface.
3, rinse with tap water can be, do not need other cleaning agents.
Fifth, note:
If the pot of medicine precipitation, please stir well before use, does not affect the use of results.
Other processing£ºChemical Plating Liquid Train¡¢Chemical nickel plating liquid¡¢Metal polishing Agent¡¢Copper surface treatment agent series¡¢Metal cleaning agent¡¢Electroless plating of real gold on copper surface¡¢Nickel removal liquid