Product list
Contact us
Tax Registration Number: 91440101552358350G
Bank:BANK OF CHINA GUANGZHOU ZENGCHENG ZHONGXIN SUB-BR
Account :705569418477
E-mail: gdyshg@163.com
Tel: 15118868698 020-87471488
Business address:The new town of Zengcheng District of Guangzhou Ctiy in Cunjing Fung pui road 30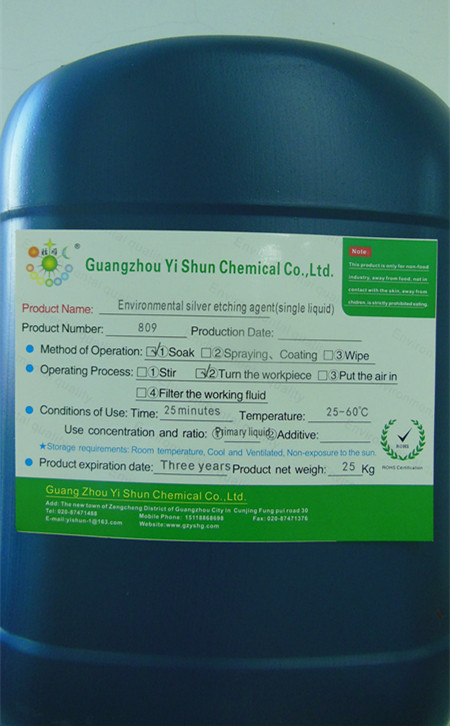 Product Name:Environmental silver etching agent,Metal Etching water,Alkaline Etching Solution
Price:
Environmental silver etching agent,Metal Etching water,Alkaline Etching Solution
Environmental silver etching agent,Metal Etching water,Alkaline Etching Solution
First, product number:Q/YS.809(Yi Shun brand)
Second, product features:
This product can be used for etching of silver nickel, silver copper alloy and silver in order to get smooth surface. This agent has no effect on the ink and can be used for pattern etching.
Third, usage method:
1.This product use original solution,do not add water, the operating temperature is 25℃ to 60 ℃, the higher the temperature, the faster the speed.
2.The silver is soaked in silver etching agent. Using a soft bristle brush gently wipe back and forth to makes potions and silver take fully homogeneous reaction; or also use the shaker makes potions move back and forth to accelerate the plate etching speed. But using ultrasound will damage the ink.
Reference data:
50 ℃ for 5 minutes →depth of 0.1 mm
30 ℃ for 20 minute →depth 0.1 mm
3.After washing do follow-up treatment
Fourth, matters needing attention:
1.This product is corrosive and does not contact with skin.
2.This product is placed in plastic containers and cannot be used in metal containers.
Other processing:Chemical nickel plating liquid、Chemical silver plating liquid (copper substrate)、Metal polishing Agent、Copper surface treatment agent series、Metal cleaning agent