Product list
Contact us
Tax Registration Number: 91440101552358350G
Bank:BANK OF CHINA GUANGZHOU ZENGCHENG ZHONGXIN SUB-BR
Account :705569418477
E-mail: gdyshg@163.com
Tel: 15118868698 020-87471488
Business address:The new town of Zengcheng District of Guangzhou Ctiy in Cunjing Fung pui road 30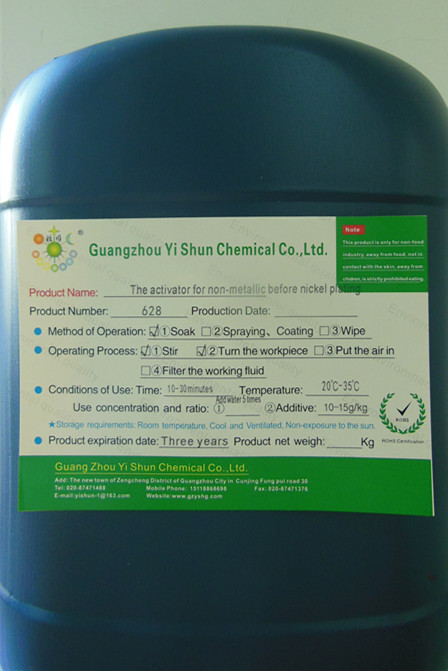 Product Name:The activator of metalloid before chemical nickel plating ,Wood activation treatment , Activation treating liquid, Resin activation treatment agent, Liquid before metal activation, Ceramic activation treatment
Price:
the activator of metalloid before chemical nickel plating ,Wood activation treatment , activation treating liquid, resin activation treatment agent, Liquid before metal activation, Ceramic activation treatment
The activator of metalloid before chemical nickel plating ,Wood activation treatment , Activation treating liquid, Resin activation treatment agent, Liquid before metal activation, Ceramic activation treatment
First, the product code: Q / YS.628 (Yi Shun brand)
Second, the product uses:
This product can be widely used in non-metallic surface (such as ceramic, carbon rod, silicon powder, silicon, all kinds of powder, large non-metallic crafts, ABS, resin, wood, diamond, plastic, cotton fiber, Activation before nickel plating, non-metallic surface can immediately form a conductive metal layer, in order to facilitate the subsequent copper, nickel and other treatment.
Third, the use of methods:
① The activator stock added 5 times tap water (purified water better), and then add the weight of the dilution of 10 ~ 15g / KG of the chemical nickel pre-activation additive (Q / YS.628-additives), stir, that is be usable.
② The non-metallic workpiece immersed in the activator working fluid for about 10-30 seconds, turn the workpiece halfway, so that even activation, do not wash.
③ Remove the workpiece, dry or at room temperature air-dry, dry can, when the workpiece has been activated, the workpiece can not be washed.
④ The activation of the workpiece is immersed in 90 ℃ ± 3 ℃ chemical nickel plating nickel plating to form a metal layer, the time is greater than 5 minutes.
⑤ Follow-up treatment: According to customer requirements to do other treatment (such as copper, nickel, silver, tin, etc.).
Fourth, note:
① This product is strictly prohibited with any other chemicals mixed.
② This product is strictly prohibited acid, alkali, strong heat, strong oxidants.
③ Please keep low temperature or room temperature dry conditions, stored in a cool and clean place.
Other processing:Chemical Plating Liquid Train、Chemical nickel plating liquid、Metal polishing Agent、Copper surface treatment agent series、Metal cleaning agent、Electroless plating of real gold on copper surface、Nickel removal liquid