Product list
Contact us
Tax Registration Number: 91440101552358350G
Bank:BANK OF CHINA GUANGZHOU ZENGCHENG ZHONGXIN SUB-BR
Account :705569418477
E-mail: gdyshg@163.com
Tel: 15118868698 020-87471488
Business address:The new town of Zengcheng District of Guangzhou Ctiy in Cunjing Fung pui road 30
The current position£ºHome > products > Chemical Plating Liquid Train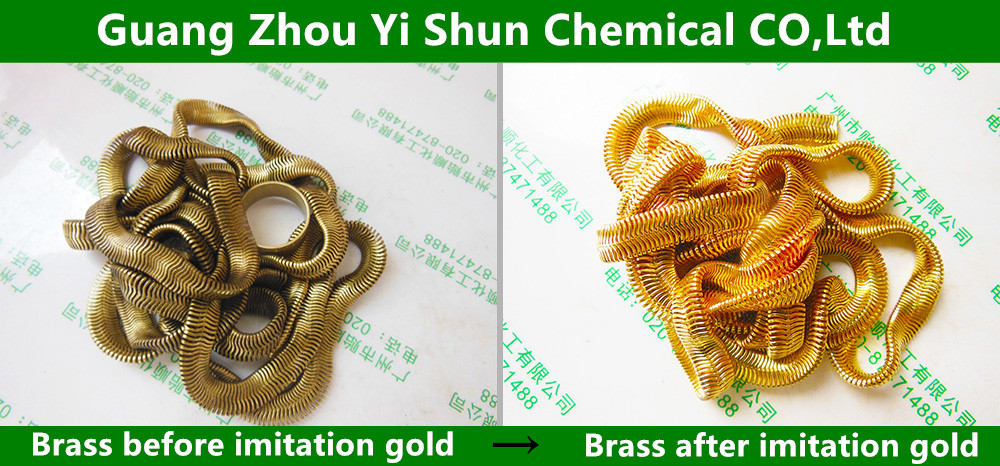 Product Name£ºChromium coating chemical imitation gold agent£¬Chrome-plated surface imitation gold £¬ Metal imitation gold agent £¬Chrome plating special chemical imitation gold agent
Price£º
chromium coating chemical imitation gold agent£¬Chrome-plated surface imitation gold £¬chemical imitation gold process £¬ metal imitation gold agent £¬ chemical imitataion gold liquid £¬ Imitation gold electroless plating process£¬Gold agent £¬Chrome plating special chemical imitation gold agent
Chromium coating chemical imitation gold agent£¬Chrome-plated surface imitation gold £¬ Metal imitation gold agent £¬Chrome plating special chemical imitation gold agent
First, product number:Q/YS.900£¨Yi Shun brand£©
Second, product advantage:
This product can be used for imitation gold treatment of all kinds of chromium coating. It can make white chrome plating golden yellow and improve the beauty of the chromium coating, also improve the conductivity of the chromium coating. The operation is simple and work pieces are immersed at room temperature do not need equipment, the color of imitation gold layer is the rose gold.
Third, product index:
1.Acid transparent liquid;
2.Proportion : £¾1.0
3.PH value£º©'5.0
4.Use at room temperature£º20-35 degrees centigrade
Fourth, usage method£º
1.The 2 times of tap water or pure water is added into gold imitation of chemical plating chromium solution, stir evenly and then join the 20g/KG imitation gold additive, uniformly stirring can be used.
2.The bright white chromium plating work piece immerse in chromium plating chemical imitation gold working fluid at room temperature for 30 seconds -2 minutes, The length of time can be determined by the specific circumstances.
3.Take out work piece and washing.
4.Immerse in the imitation gold layer of chromium free passivation solution for 3-5 minutes.
5.Washing.
6.Drying and making follow-up treatment, such as plating or sealing paint, etc.
Other processing£ºChemical Plating Liquid Train¡¢Chemical silver plating liquid (copper substrate)¡¢Stainless steel chemical thicker liquid copper  plating¡¢Electroless plating of real gold on copper surface¡¢Chemical nickel plating liquid(copper/iron/lead substrate)¡¢Brass Green Chemical polishing Agent