Product list
Contact us
Tax Registration Number: 91440101552358350G
Bank:BANK OF CHINA GUANGZHOU ZENGCHENG ZHONGXIN SUB-BR
Account :705569418477
E-mail: gdyshg@163.com
Tel: 15118868698 020-87471488
Business address:The new town of Zengcheng District of Guangzhou Ctiy in Cunjing Fung pui road 30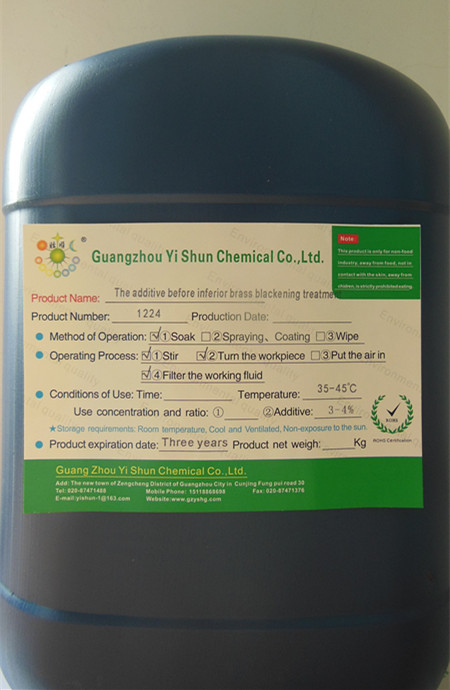 Product Name:Inferior brass blackening pretreatment agent, Inferior brass blackinng pretreatment additon agent , Inferior brass preoxidizing agent ,Treatment liquid before inferior brass blackening,Catalytic agent before blackening
Price:
inferior brass blackening pretreatment agent, inferior brass blackinng pretreatment additon agent , inferior brass preoxidizing agent ,treatment liquid before inferior brass blackening,catalytic agent before blackening
Inferior brass blackening pretreatment agent, Inferior brass blackinng pretreatment additon agent , Inferior brass preoxidizing agent ,Treatment liquid before inferior brass blackening,Catalytic agent before blackening
First, the product code: Q / YS.1224 (Yi Shun brand)
Second, the product advantages and uses:
This product is suitable for more than H50 non-standard lead-tin low-density non-standard brass before blackening treatment, after the treatment of inferior non-standard brass, blackening in the next step in the process, You can get a uniform and dark film, while the agent can also greatly improve the binding of the black film. If you do not deal with this product, poor quality non-standard brass can not get dark and uniform oxide film. This product is environmentally friendly odorless, suitable for lead brass, tin brass and other non-standard inferior brass. Widely used in optical instruments parts, accessories.
Third, product index:
1,This product has two components: pre-treatment agent and additives composed of two parts. In addition have film removal agent.
2,Specific gravity> 1.0 PH value <7.0
3,Odorless and colorless.
Fourth, the use of methods:
black brass in poor quality pre-treatment agent by adding 3-4% of additives. After heating to 35-45 ℃, the degreasing brass pieces immersed in the pretreatment liquid, about 1-2 minutes, then remove the membrane, washed with water. Finally enter Q / YS.122 Brass special black agent, soak 3-5 minutes, you can get a uniform and dark oxide film.
Other processing:Chemical Plating Liquid Train、Chemical nickel plating liquid、Metal polishing Agent、Copper surface treatment agent series、Metal cleaning agent、Electroless plating of real gold on copper surface、Brass dedicated blackening Agent